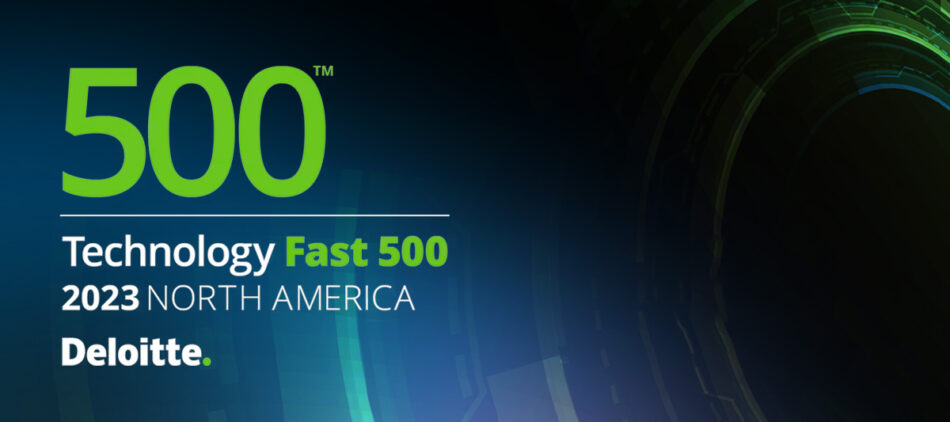 11.8.23
Veritone Achieves a Three-Peat in the Deloitte Technology Fast 500™ Awards
Recognized as one of the most innovative technology companies in North America for the third consecutive year
Veritone, Inc. (NASDAQ: VERI), a leader in designing human-centered AI solutions, is a 2023 winner in the Deloitte Technology Fast 500, which recognizes the most innovative, fastest-growing technology companies in North America for advancements in technology, media, life sciences, fintech and energy tech. The award ranks each company out of the 500 winners based on a company's percentage of revenue growth from the 2019 to 2022 fiscal years. 
For almost a decade, Veritone has consistently delivered award-winning solutions across various business sectors. This year's prize recognized Veritone Generative AI, the company's enterprise-grade Platform-as-a-Service (PaaS), which enables the creation and extension of content and data at exceptional scale.
"Our recognition in the Deloitte Technology Fast 500 underscores Veritone's commitment to innovation and sustained growth," said Ryan Steelberg, President and CEO of Veritone. "We are dedicated to delivering AI solutions that advance human potential to help organizations solve problems and achieve more than ever before."
The company's growth is fueled in part by the successful introduction of Veritone Generative AI, which seamlessly integrates public large language models like GPT-3 and ChatGPT with domain-specific models, offering organizations new possibilities for predictive AI-generated content, enhanced audience engagement and diversified revenue streams.
The Veritone Public Sector business recently secured a $15 million Blanket Purchase Agreement with the U.S. Department of Justice (DOJ), streamlining access to Veritone's AI-powered software and services across all DOJ agencies to rapidly transcribe, translate, locate, redact and extract critical evidence for various projects and initiatives.
Additionally, Veritone closed the acquisition of Broadbean, a global leader in software-as-a-service (SaaS) technology for talent acquisition and engagement. This strategic move is expected to generate annualized SaaS revenues over $35 million, strengthening Veritone's position in the human resources solutions market, where it operates as Veritone Hire and combines the strengths of Broadbean and PandoLogic (acquired by Veritone in 2021) to promote a deeper, global commitment to AI-powered HR solutions.
Veritone remains dedicated to driving technological innovation, empowering organizations to unlock new possibilities and realize their full potential by leveraging the power of AI.
To learn more, please visit: https://www.veritone.com. 
---
About Veritone
Veritone (NASDAQ: VERI) designs human-centered AI solutions. Serving customers in the talent acquisition, media, entertainment and public sector industries, Veritone's software and services empower individuals at the world's largest and most recognizable brands to run more efficiently, accelerate decision making and increase profitability. Veritone's leading enterprise AI platform, aiWARE™, orchestrates an ever-growing ecosystem of machine learning models, transforming data sources into actionable intelligence. By blending human expertise with AI technology, Veritone advances human potential to help organizations solve problems and achieve more than ever before, enhancing lives everywhere. To learn more, visit Veritone.com.
Safe Harbor Statement
This news release contains forward-looking statements. Without limiting the generality of the foregoing, words such as "may," "will," "expect," "believe," "anticipate," "intend," "could," "estimate" or "continue" or the negative or other variations thereof or comparable terminology are intended to identify forward-looking statements. In addition, any statements that refer to expectations, projections or other characterizations of future events or circumstances are forward-looking statements. Assumptions relating to the foregoing involve judgments and risks with respect to various matters which are difficult or impossible to predict accurately and many of which are beyond the control of Veritone. Certain of such judgments and risks are discussed in Veritone's SEC filings. Although Veritone believes that the assumptions underlying the forward-looking statements are reasonable, any of the assumptions could prove inaccurate and, therefore, there can be no assurance that the results contemplated in forward-looking statements will be realized. In light of the significant uncertainties inherent in the forward-looking information included herein, the inclusion of such information should not be regarded as a representation by Veritone or any other person that their objectives or plans will be achieved. Veritone undertakes no obligation to revise the forward-looking statements contained herein to reflect events or circumstances after the date hereof or to reflect the occurrence of unanticipated events.