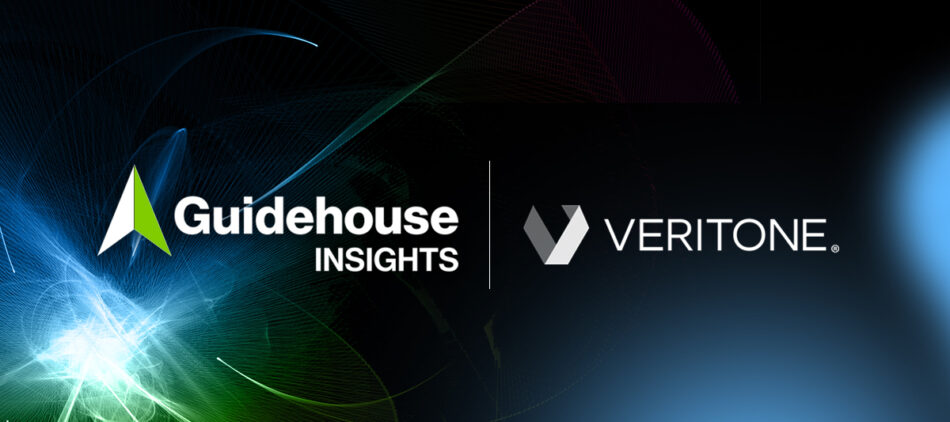 06.30.22
Veritone Named Key Industry Player in 2022 Guidehouse Insights Leaderboard Report for Virtual Power Plant Platform Vendors
Intelligent Distributed Energy Resource Management (iDERMS) solution harnesses the power of AI through proprietary, real-time energy forecasting, design, optimization and control helping organizations maximize their infrastructure investments and profits
Veritone, Inc. (NASDAQ: VERI), creator of iDERMS, an intelligent distributed energy resource management platform, today announced it has been named a key player in the 2022 Guidehouse Insights Leaderboard Report for Virtual Power Plant (VPP) Platform Vendors. As energy markets continue to evolve toward a greater reliance on distributed energy resources (DER) that generate, consume, or store electricity creating a two-way power flow dynamic, Veritone's AI-driven intelligent distributed energy resources management system (iDERMS) is hailed as a leader in helping organizations maximize the flexibility and reliability of assets to best support the development of a resilient power grid.
Guidehouse Insights, the dedicated market intelligence arm of Guidehouse, is a premier market intelligence and advisory firm covering the global energy transformation with a focus on emerging resilient infrastructure systems. Its Leaderboard report examines the strategy and execution of 16 VPP platform vendors whose platforms can create mixed-asset VPPs. These providers are rated on the following criteria: vision; go-to-market strategy; partners/acquisitions/investors; DERMS integration strategy; technology scope; geographic reach; sales, marketing, and distribution; platform performance; value chain capture; project portfolio; business model; and staying power. Using Guidehouse Insights' proprietary Leaderboard methodology, vendors are interviewed, profiled, rated, and ranked with the goal of providing an objective assessment of their relative strengths and weaknesses in the global VPP platform market.
"VPPs can transform passive consumers into active prosumers through integration and optimization of new technologies, such as demand response (DR), solar PV systems, energy storage, and EVs. Prosumers become active participants in delivering the energy services they need but when called on, can also serve the needs of the larger grid." – Guidehouse Insights
Veritone's iDERMS solution harnesses the power of AI to revolutionize today's energy ecosystems through proprietary, intelligent, day-ahead and real-time energy forecasting, design, optimization, and control, all of which unlock the full potential of energy resources, while enhancing overall reliability. With Forecaster, Designer, Optimizer and Controller modules, the solution allows for tackling industry challenges at a pace best suited to meet each customer's specific objectives, timelines, or financial goals, while simultaneously addressing reliability and the commercial aspects of distributed energy resources (DERs).
"We are extremely proud and honored to be included in the Guidehouse Insights Leaderboard Report for Virtual Power Plant Platform Vendors, which only includes companies that provide platforms capable of creating mixed-asset VPPs," said Sean McEvoy, senior vice president and general manager of Energy at Veritone. "At Veritone, our priority is to advance the mission of our customers and help them reach their business goals. Veritone's AI-driven iDERMS solution is best-in-class, selected by a growing number of organizations to modernize the power grid in the safest, most environmentally responsible and cost-effective manner while helping maintain system reliability."
To download the full report, visit: www.guidehouseinsights.com.
For more information, visit iDERMS here.
---
About Veritone
Veritone (NASDAQ: VERI) is a leader in enterprise artificial intelligence (AI) software and solutions. Serving organizations in both commercial and regulated sectors, Veritone's software, services, and industry applications accelerate and maximize digital migration, empowering the largest and most recognizable brands in the world to run more efficiently, accelerate decision making and increase profitability. Veritone's hyper-expansive Enterprise AI platform, aiWARE™, orchestrates an ever-growing ecosystem of machine learning models to transform audio, video and other data sources into actionable intelligence. Through professional and managed services, as well as its robust partner ecosystem, Veritone develops and builds AI solutions that solve the problems of today and tomorrow.
To learn more, visit www.veritone.com.
Safe Harbor Statement
This news release contains forward-looking statements. Without limiting the generality of the foregoing, words such as "may," "will," "expect," "believe," "anticipate," "intend," "could," "estimate" or "continue" or the negative other variations thereof or comparable terminology are intended to identify forward-looking statements. In addition, any statements that refer to expectations, projections or other characterizations of future events or circumstances are forward-looking statements. Assumptions relating to the foregoing involve judgments and risks with respect to various matters which are difficult or impossible to predict accurately and many of which are beyond the control of Veritone. Certain of such judgments and risks are discussed in Veritone's SEC filings. Although Veritone believes that the assumptions underlying the forward-looking statements are reasonable, any of the assumptions could prove inaccurate and, therefore, there can be no assurance that the results contemplated in forward-looking statements will be realized. In light of the significant uncertainties inherent in the forward-looking information included herein, the inclusion of such information should not be regarded as a representation by Veritone or any other person that their objectives or plans will be achieved. Veritone undertakes no obligation to revise the forward-looking statements contained herein to reflect events or circumstances after the date hereof or to reflect the occurrence of unanticipated events.