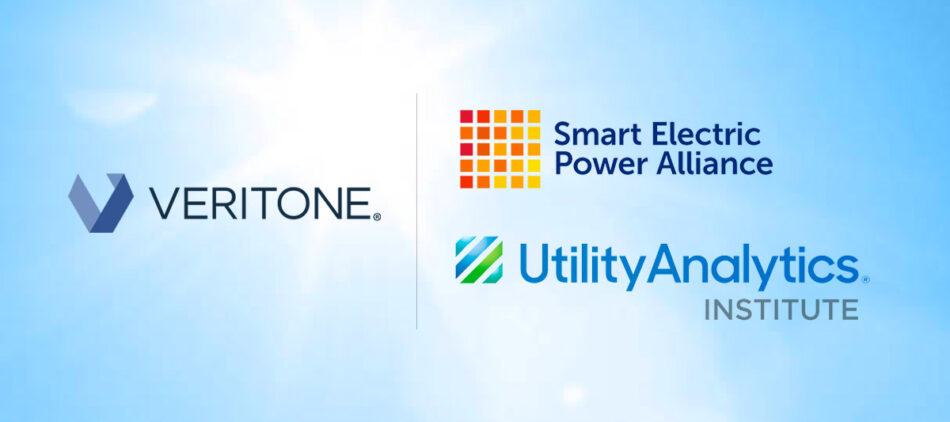 12.6.21
Veritone Joins Smart Electric Power Alliance and Utility Analytics Institute to Advance Collective Mission to Make Energy Delivery Cleaner, Cheaper and More Reliable
Veritone brings AI expertise and leadership to industry organizations to help their members solve complex challenges resulting from rise of renewable energy sources, new legislation, and the global push towards decarbonization
Veritone, Inc. (NASDAQ: VERI), creator of aiWARE, a hyper-expansive enterprise AI platform, announced today that it has joined the Smart Electric Power Alliance (SEPA) and the Utility Analytics Institute (UAI), leading industry organizations focused on the transformation of utilities. As a member, Veritone will add its strong AI leadership and deep machine learning expertise to help utility decision-makers solve complex challenges resulting from the rise of renewable energy sources, new legislation, climate change, and the global push towards decarbonization.
"Like many other industries, utilities' decision-makers and organizations like SEPA and UAI recognize the game-changing capabilities of AI, machine learning, automation, and analytics," said Sean McEvoy, SVP, Energy Solutions, Veritone. "Particularly with the Federal Energy Regulatory Commission's (FERC) Order No. 2222 fostering competition in the wholesale energy market taking effect February 2022, there is no better time than now for Veritone to join these forward-thinking organizations. With our AI-driven energy solutions, together, we can fast-track our collective mission to make power delivery greener, cheaper, and more reliable as the nation transitions to a decarbonized future."
Globally, we are going through an energy transition, shifting from fossil-based energy production and consumption systems to renewable energy sources. Unreliable green energy sources, new forms of energy storage and energy supply, and demand imbalances, however, may impact customer satisfaction and company profitability. And with such exponential growth in power system complexity, utilities will find it increasingly challenging to maintain day-to-day reliability, as well as resilience to many types of grid disruptions. 
"AI is essential to address the increasingly-complex system of energy generation, transmission, storage, and distribution in a net-zero carbon economy," said Julia Hamm, President & CEO of SEPA. "We are thrilled to welcome Veritone and its energy solutions to the SEPA community as we collectively work to realize a carbon-free energy system by 2050."
Veritone's AI-powered energy solutions—built on its proven, open and future-proof aiWARE platform— help utilities and independent power producers increase reliability, decrease operational costs, and reduce carbon footprint by accurately predicting, synchronizing, optimizing, and controlling integrated distributed energy resources. Using a reinforcement learning approach, Veritone's modules continuously adapt and auto-retrain to make optimal decisions, even with a high number of possible constraints. System and hardware agnostic, Veritone offers its energy solutions on-premise, in a hosted environment, or as a service to give its customers the ultimate flexibility without sacrificing performance. 
"One of the most difficult transitions a utility will have  in the new energy economy is transforming into a data decision-based company," said Mark Johnson, VP of Energy Group at Endeavor Business Media/UAI. "Equally challenging is choosing the right tools and technology. As a new association member, Veritone will not only be instrumental in helping the utility industry tackle the challenges of today and tomorrow but also help further UAI's mission to enable utility transformation through analytics."
To learn more, read the Understanding FERC Order 2222 blog and listen to the Adventures in AI Podcast episode on The Role of Intelligent DERMS in the Clean Energy Transition.
---
About Veritone
Veritone (NASDAQ: VERI) is a leader in enterprise artificial intelligence (AI) solutions. Serving organizations in both commercial and regulated sectors, Veritone's software, services, and industry applications simplify data management, empowering the largest and most recognizable brands in the world to run more efficiently, accelerate decision making and increase profitability. Veritone's hyper-expansive Enterprise AI platform, aiWARE™, orchestrates an ever-growing ecosystem of machine learning models to transform audio, video and other data sources into actionable intelligence. Through its robust partner ecosystem and professional and managed services, Veritone develops and builds AI solutions that solve the problems of today and tomorrow.
About SEPA
The Smart Electric Power Alliance (SEPA) is dedicated to helping electric power stakeholders address the most pressing issues they encounter as they pursue the transition to a clean and modern electric future and a carbon-free energy system by 2050. We are a trusted partner providing education, research, standards, and collaboration to help utilities, electric customers, and other industry players across three pathways: Electrification, Grid Integration, Regulatory and Business Innovation. Through educational activities, working groups, peer-to-peer engagements and advisory services, SEPA convenes interested parties to facilitate information exchange and knowledge transfer to offer the highest value for our members and partner organizations. For more information, visit www.sepapower.org.
Follow SEPA on Twitter, Facebook and LinkedIn
About Utility Analytics Institute 
Utility Analytics Institute (UAI) enables utility transformation through analytics. Transforming into a data decision-based company is one of the most difficult transitions a utility will have to make to thrive in the new energy economy. It's more than just managing massive amounts of data, implementing the right tools and technology, and people and process management. It's ensuring you have proper change management processes in place to address cultural challenges, as well as data management and governance plans, and best practice and compliant security strategies in place. It's implementing the best organizational structure for your utility, and hiring and retaining talented staff, plus so much more! UAI brings together the leading utilities who are serious about tackling these challenges and together we concentrate on utility analytics. Visit utilityanalytics.com.
Safe Harbor Statement
This news release contains forward-looking statements. Without limiting the generality of the foregoing, words such as "may," "will," "expect," "believe," "anticipate," "intend," "could," "estimate" or "continue" or the negative or other variations thereof or comparable terminology are intended to identify forward-looking statements. In addition, any statements that refer to expectations, projections or other characterizations of future events or circumstances are forward-looking statements. Assumptions relating to the foregoing involve judgments and risks with respect to various matters which are difficult or impossible to predict accurately and many of which are beyond the control of Veritone. Certain of such judgments and risks are discussed in Veritone's SEC filings. Although Veritone believes that the assumptions underlying the forward-looking statements are reasonable, any of the assumptions could prove inaccurate and, therefore, there can be no assurance that the results contemplated in forward-looking statements will be realized. In light of the significant uncertainties inherent in the forward-looking information included herein, the inclusion of such information should not be regarded as a representation by Veritone or any other person that their objectives or plans will be achieved. Veritone undertakes no obligation to revise the forward-looking statements contained herein to reflect events or circumstances after the date hereof or to reflect the occurrence of unanticipated events.