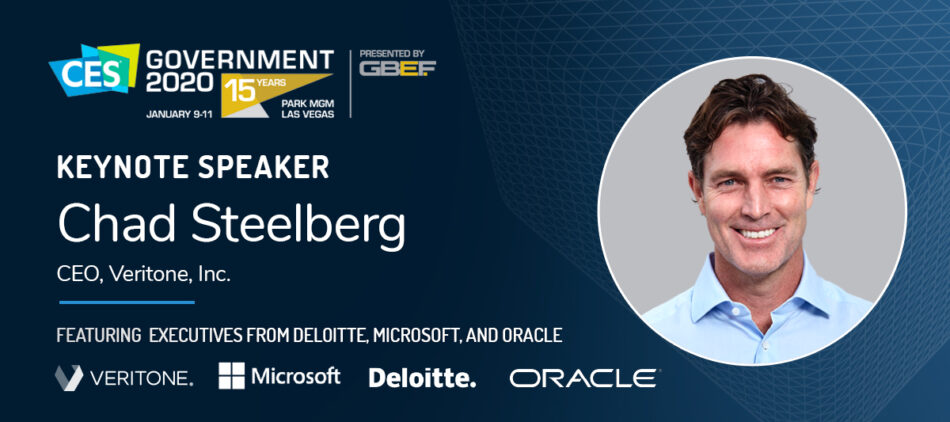 01.8.20
Veritone CEO Chad Steelberg to Present Keynote at CES Government 2020, Featuring Executives from Deloitte, Microsoft, and Oracle
The session will showcase AI deployment strategies and infrastructure considerations for U.S. government agencies.
Veritone, Inc. (NASDAQ: VERI), the creator of the world's first operating system for artificial intelligence, aiWARE™, which received FedRAMP authorization in March 2019 (aiWARE Government), today announced that the company's chairman and CEO Chad Steelberg will give a keynote at CES-Government 2020 at the Park MGM Hotel in Las Vegas. He will be joined by executives from Deloitte, Microsoft and Oracle. 
Steelberg is scheduled to kick off his session, "Artificial Intelligence: Machine Learning and Mission," on Friday, January 10 at 11:30 a.m. PT. The presentation will focus on strategies for successful deployment of AI and cognitive computing in the government sector and include real-world use cases that Veritone's technology is addressing across state and local government agencies.  
Steelberg will be joined by Veritone technology partners Pat McColloch, Managing Director, Government and Public Sector Discovery at Deloitte; Richard Zak, Director of Justice & Public Safety Solutions at Microsoft; and Ryan Jannise, Area Vice President, US Defense Systems and Cloud at Oracle to explore how agency missions can be successfully achieved by leveraging AI to surface insight from source data residing on-premise, within a GovCloud or even a hybrid environment.
"Artificial intelligence is going to fundamentally reshape government operations and redefine the balance of power on a global scale. Data sovereignty, security and bias concerns often make AI-based solutions complex to deploy and present significant challenges to organizations, especially in the government sector," Steelberg said. "I am looking forward to discussing various AI deployment options through the Veritone aiWARE platform, enabling flexible and secure AI deployments at scale. In collaboration with our partners Deloitte, Microsoft and Oracle, the session will offer the audience a 360-degree view of today's AI solutions with practical insights into the future."
Now in its fifteenth year, CES-Government brings together top executive-level innovators in the public and private sectors each January. Anchored in the U.S. federal government, but with substantial participation from U.S. state and local jurisdictions, as well as U.S. and NATO partner nations, the conference attracts digital transformation leaders in information technology in government in addition to the private sector. 
For additional details on Steelberg's presentation or Veritone's presence at CES-Government, please visit https://www.veritone.com/blog/ces-government-2020/. For more information on Veritone's work in the public sector, please visit https://www.veritone.com/solutions/government/. 
---
About Veritone
Veritone (Nasdaq: VERI) is a leading provider of artificial intelligence (AI) technology and solutions. The company's proprietary operating system, aiWARE™, orchestrates an expanding ecosystem of machine learning models to transform audio, video, and other data sources into actionable intelligence. aiWARE can be deployed in a number of environments and configurations to meet customers' needs. Its open architecture enables customers in the media and entertainment and government, legal and compliance sectors to easily deploy applications that leverage the power of AI to dramatically improve operational efficiency and effectiveness. Veritone is headquartered in Costa Mesa, California, with offices in Denver, London, New York, San Diego, and Seattle. To learn more, visit Veritone.com.
Safe Harbor Statement
This news release contains forward-looking statements, including without limitation statements regarding the capabilities of, and deployment options for, Veritone's aiWARE operating system, and the expected benefits of aiWARE and AI technologies to customers in the government sector. Without limiting the generality of the foregoing, words such as "may," "will," "expect," "believe," "anticipate," "intend," "could," "estimate" or "continue" or the negative or other variations thereof or comparable terminology are intended to identify forward-looking statements. In addition, any statements that refer to expectations, projections or other characterizations of future events or circumstances are forward-looking statements. Assumptions relating to the foregoing involve judgments and risks with respect to various matters which are difficult or impossible to predict accurately and many of which are beyond the control of Veritone. Certain of such judgments and risks are discussed in Veritone's SEC filings. Although Veritone believes that the assumptions underlying the forward-looking statements are reasonable, any of the assumptions could prove inaccurate and, therefore, there can be no assurance that the results contemplated in forward-looking statements will be realized. In light of the significant uncertainties inherent in the forward-looking information included herein, the inclusion of such information should not be regarded as a representation by Veritone or any other person that their objectives or plans will be achieved. Veritone undertakes no obligation to revise the forward-looking statements contained herein to reflect events or circumstances after the date hereof or to reflect the occurrence of unanticipated events.