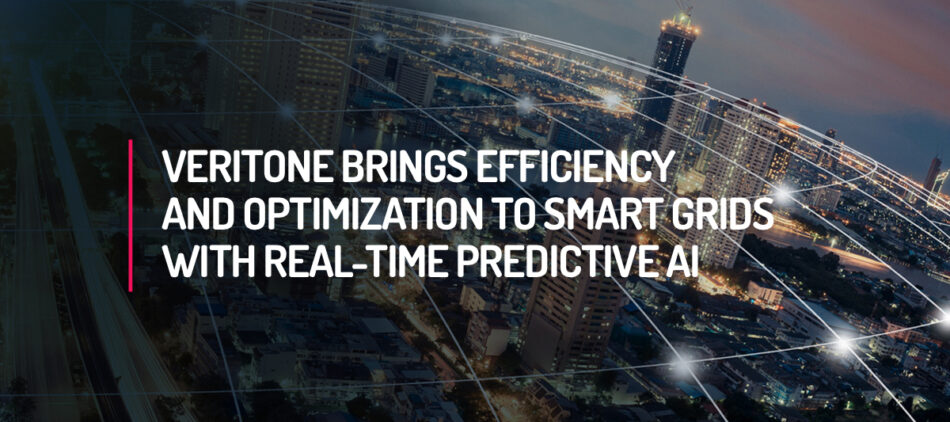 10.6.20
Veritone Brings Efficiency and Optimization to Smart Grids with Real-Time Predictive AI
Patented solutions support green energy boom by empowering utilities to predict optimal energy supply mix and pricing to meet grid demand and ensure grid reliability.
Veritone, Inc. (Nasdaq: VERI), the creator of the world's first operating system for artificial intelligence, aiWARE™, today announced it has entered the energy sector with Veritone Energy, a suite of proprietary, predictive AI solutions that will help utilities increase profitability and improve grid reliability as they make the transition to renewables.
"We are thrilled to be adding a new vertical to our growing customer bases in the Media & Entertainment and Government, Legal and Compliance markets," said Chad Steelberg, Chairman and CEO of Veritone. "Every year, over $750 billion is invested in global electricity generation and distribution projects, giving Veritone Energy a significant opportunity to showcase how our cutting-edge, predictive AI technology can help the world reduce its dependence on fossil fuels."
Veritone has already begun to deploy its AI energy technologies with a leading U.S. utility and is in advanced talks with other potential private and public sector customers and partners.
Veritone Energy's patented solutions use AI to optimize energy distribution across diverse energy grids. By applying advanced models, rules and learning to weather forecast, energy demand, pricing, and device data, the solutions help utilities automatically predict optimal energy supply mix and pricing to meet grid demand, in real-time. The utility can now more accurately predict how much energy, at what price, to send to which device, and when. Veritone estimates this real-time forecasting capability will translate to millions of dollars of cost savings for utilities in saved energy, device longevity, and optimal energy prices.
The company's announcement comes as the increasing use of clean energy sources is creating enormous reliability and safety challenges for utilities due to the aging U.S. electric grid, which still relies on human decision-making. Two-way power flow between legacy and renewable devices can cause network congestion, inconsistent energy delivery and blackouts. The need for synchronization and optimization to enable utilities to add renewable sources has never been greater. As Gartner states in their 2020 Market Guide for Advanced Distribution Management Systems, "The confluence of the 4D megatrends (digitalization, decentralization, decarbonization and democratization) is driving structural changes in energy provisioning systems. To manage electricity delivery networks safely and effectively given the new requirements of the energy transition, utilities need a solution that serves as the 'nerve center' of the digital grid."* Veritone's energy solution is key to that nerve center.
"The green energy boom is impossible without digital innovation," Steelberg said. "Hamstrung by legacy infrastructure, and challenged by electrical grids that are becoming more distributed and complex, the energy sector urgently needs AI to make clean energy production more predictable, reliable and cost effective."
Weather and energy demand are constantly changing, creating significant challenges for utility companies and equipment providers that need to deliver energy from a wide variety of old and new energy sources consistently and profitably. Day-ahead forecasting of always-changing weather is not enough.
"Unlike other predictive energy solution providers that use the past to predict the future, Veritone's patented CDI technology predicts the future using the present. Veritone combines current data from multiple sources — weather sensors, load demand systems and distributed grid devices — to predict optimal energy dispatch, allowing utilities to accurately and dynamically meet future grid demand, whether minutes, hours or days ahead," said Veritone Chief Energy Scientist Dr. Wolf Kohn. "Our active device synchronization technology ensures safe and reliable operation of distributed energy resources with the grid on a constant basis, rather than relying on historical feedback loops that may not accurately reflect the present state. We do this with patented, Hamiltonian-based models and machine learning that occurs both centrally and at the device level. This approach enables distributed, autonomous edge device decisions using low-cost processors that can be more cost effectively deployed on-premise, via Internet of Things devices or in the cloud."
With a proprietary operating system for AI and more than 20 issued and pending patents covering its aiWARE-based energy technology, Veritone's highly customizable solutions can be applied to solve a wide range of challenges facing the industry, including solar smoothing, demand response, micro-grid synchronization, intelligent device control, voltage optimization, regulatory compliance, dispatch optimization and high-speed energy arbitrage.
Veritone Energy's flagship solutions include:
Forecaster

to accurately detect and predict energy supply, demand and price.

Optimizer

to make AI-based energy supply determinations.

Controller

for predictive device control and

active synchronization, combining energy sources to optimally satisfy demand

.
Arbitrage

for buying, selling and dispatching energy. 
"Veritone's predictive AI technology brings much-needed optimization and efficiency to the energy grid, helping reduce energy consumption and provide greater stability," said John Zangardi, President of Redhorse Corporation, a leading U.S. government services provider. "Veritone's ability to leverage massive amounts of historical and real-time data to effectively balance energy supply and demand, with automated synchronization of grid assets for maximum reliability, is a real game changer in the energy industry." 
More information about Veritone Energy's solutions and services is available at https://www.veritone.com/energy.
*Gartner "Market Guide for Advanced Distribution Management Systems," Zarko Sumic, Lloyd Jones, 29 July 2020
---
About Veritone
Veritone (NASDAQ: VERI) is a leading global software and solutions provider at the forefront of the artificial intelligence (AI) revolution. The company's proprietary operating system, aiWARE™, the world's first operating system for AI, democratizes AI as well as orchestrates an expanding ecosystem of machine learning models to transform audio, video, and other data sources into actionable intelligence. Veritone is helping to solve systemic and intractable problems in multiple sectors, including energy, media & entertainment, government, legal & compliance and public health & safety. Veritone is headquartered in Costa Mesa, California, and has offices in Denver, London, New York and San Diego. To learn more, visit veritone.com. 
Safe Harbor Statement
This news release contains forward-looking statements, including without limitation statements that the Veritone Energy solutions will help utilities increase profitability and improve grid reliability as they make the transition to renewables, and statements regarding the features and capabilities of the Veritone Energy solutions and their expected benefits to customers, including the company's estimate that its real-time forecasting capability will translate to millions of dollars of cost savings for utilities. Without limiting the generality of the foregoing, words such as "may," "will," "expect," "believe," "anticipate," "intend," "could," "estimate" or "continue" or the negative or other variations thereof or comparable terminology are intended to identify forward-looking statements. In addition, any statements that refer to expectations, projections or other characterizations of future events or circumstances are forward-looking statements. Assumptions relating to the foregoing involve judgments and risks with respect to various matters which are difficult or impossible to predict accurately and many of which are beyond the control of Veritone. Certain of such judgments and risks are discussed in Veritone's SEC filings. Although Veritone believes that the assumptions underlying the forward-looking statements are reasonable, any of the assumptions could prove inaccurate and, therefore, there can be no assurance that the results contemplated in forward-looking statements will be realized. In light of the significant uncertainties inherent in the forward-looking information included herein, the inclusion of such information should not be regarded as a representation by Veritone or any other person that their objectives or plans will be achieved. Veritone undertakes no obligation to revise the forward-looking statements contained herein to reflect events or circumstances after the date hereof or to reflect the occurrence of unanticipated events.
Further Reading
Webinar Replay: Using Predictive AI to Optimize the Grid
The Move to Reliable, Low-Cost Renewable Energy
Will Occasional Blackouts Become the Norm?
Can AI-Powered Energy Forecasting & Optimization Software Save America's Power Grid?