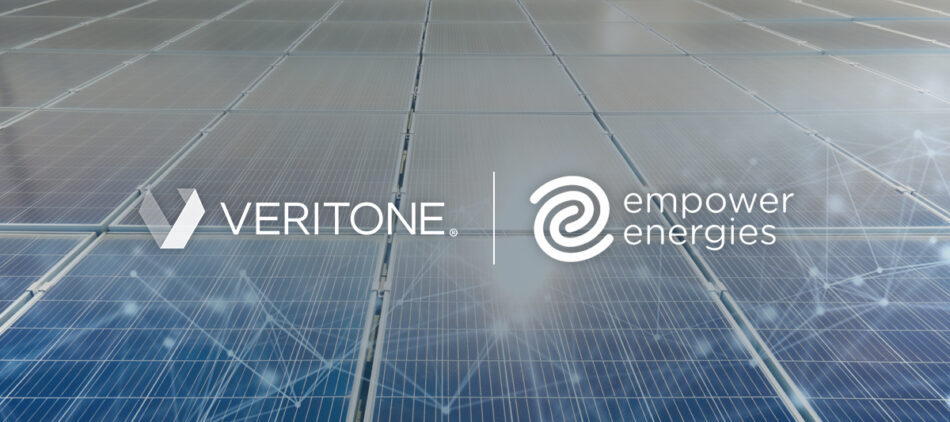 07.26.22
Empower Energies Selects Veritone iDERMS™ Designer for a Hybrid Solar + Battery Energy Storage System (BESS)
The solution will provide Empower Energies with an optimal DER system design to reduce the end-user energy cost, maximize its BESS investment and increase revenue opportunities
Veritone, Inc. (NASDAQ: VERI), creator of iDERMS, an intelligent distributed energy resource management platform, today announced its iDERMS Designer was selected by Empower Energies, one of the leading turnkey providers of clean energy solutions in the United States, to provide an optimal distributed energy resource (DER) sizing solution for a multi-facility development project in Electric Reliability Council of Texas (ERCOT).
Veritone's iDERMS Designer was used to determine the size of a battery energy storage system (BESS) needed to complement the existing solar canopy system at multiple facilities, to coordinate battery discharging and charging for optimal performance and savings and to maximize possible revenue streams. The iDERMS Designer used patented artificial intelligence (AI) driven algorithms to ingest years of price, load and solar generation data in order to optimize for a multi-sensitivity business case for ERCOT facilities. As a result, the implemented solution is expected to reduce monthly energy bills, particularly during periods of ERCOT scarcity pricing.
In addition, it is anticipated that an optimized BESS will generate revenue streams from energy arbitrage leveraging Veritone's ERCOT price forecaster. Further, participating in "value stacking" will uncover additional revenue streams, such as participating in a demand response program, acting as a spinning reserve resource in the ERCOT ancillary service market and providing backup power for critical end-user loads during periods of grid outage.
"Veritone has been an excellent partner for Empower Energies. Not only is their analysis and presentation first-rate, but their customer service is outstanding," said Marshall Kaiser, senior director of managed accounts at Empower Energies. "Both we and our clients are very impressed with Veritone's expertise, and are looking forward to collaborating on future projects."

"As one of the most trusted renewable energy partners in the industry, Empower Energies is committed to providing our customers with the most advanced technologies that maximize the potential of their clean energy solutions," said Robert Duva, vice president of engineering at Empower Energies. "We recognize that fewer reliable green energy sources and new forms of energy storage, energy supply and demand imbalances are impacting grid stability, customer satisfaction and company profitability, which is why we chose to partner with Veritone. Its AI-powered iDERMS platform bridges the gap, bringing the energy sector an urgently needed solution to make green energy more predictable, reliable and cost-effective."
Veritone's iDERMS solution harnesses the power of AI to revolutionize today's energy ecosystems through proprietary, intelligent, day-ahead and real-time energy forecasting, optimization and control—all of which unlock the full potential of energy resources, while enhancing overall reliability. With Forecaster, Optimizer and Controller modules, the iDERMS solution allows for tackling industry challenges at a pace best suited to meet each customer's specific objectives, timelines or financial goals, while simultaneously addressing reliability and the commercial aspects of DERs.
"Partnering with Empower Energies gives Veritone another tremendous opportunity to demonstrate the capability of iDERMS to help transform the industry," said Sean McEvoy, senior vice president of energy at Veritone. "We have completed several capacity sizing projects over the past year, assuring our customers are equipped with an optimal energy mix before they deploy their DERs. With Veritone's iDERMS solution, renewable energy is delivered with exceptional reliability and efficiency, while simultaneously addressing the commercial aspects of DERs to maximize investments as utilities accelerate the mission to end global dependence on fossil fuels."
For more information, visit iDERMS here.
---
About Veritone
Veritone (NASDAQ: VERI) is a leader in enterprise artificial intelligence (AI) solutions. Serving organizations in both commercial and regulated sectors, Veritone's software, services, and industry applications simplify data management, empowering the largest and most recognizable brands in the world to run more efficiently, accelerate decision making and increase profitability. Veritone's expansive aiWARE™ operating system for AI orchestrates an ever-growing ecosystem of machine learning models to transform audio, video, and other data sources into actionable intelligence. Through its robust partner ecosystem and professional and managed services, Veritone develops and builds AI solutions that solve the problems of today and tomorrow. To learn more, visit www.veritone.com.
Safe Harbor Statement
This news release contains forward-looking statements. Without limiting the generality of the foregoing, words such as "may," "will," "expect," "believe," "anticipate," "intend," "could," "estimate" or "continue" or the negative other variations thereof or comparable terminology are intended to identify forward-looking statements. In addition, any statements that refer to expectations, projections or other characterizations of future events or circumstances are forward-looking statements. Assumptions relating to the foregoing involve judgments and risks with respect to various matters which are difficult or impossible to predict accurately and many of which are beyond the control of Veritone. Certain of such judgments and risks are discussed in Veritone's SEC filings. Although Veritone believes that the assumptions underlying the forward-looking statements are reasonable, any of the assumptions could prove inaccurate and, therefore, there can be no assurance that the results contemplated in forward-looking statements will be realized. In light of the significant uncertainties inherent in the forward-looking information included herein, the inclusion of such information should not be regarded as a representation by Veritone or any other person that their objectives or plans will be achieved. Veritone undertakes no obligation to revise the forward-looking statements contained herein to reflect events or circumstances after the date hereof or to reflect the occurrence of unanticipated events.