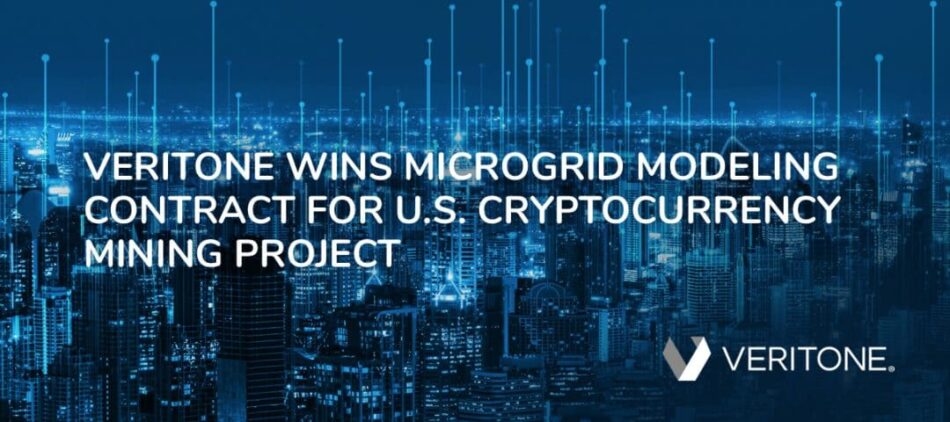 08.3.21
Veritone Wins Microgrid Modeling Contract for U.S. Cryptocurrency Mining Project
Capacity sizing simulation will ensure clean, continuous, and reliable electricity generation for cryptocurrency mining data centers
Veritone, Inc. (NASDAQ: VERI), the creator of the world's first operating system for artificial intelligence, aiWARE™, today announced a new project with a leading microgrid developer to model the clean energy supply needs for a new U.S cryptocurrency mining project within Texas.
Global pressure for mining cryptocurrency using more clean energy sources over fossil fuels has spurred a migration to more environmentally-conscious countries such as the U.S., which now accounts for almost 17% of the world's cryptocurrency. Mining data centers are increasingly powered by clean energy microgrids, which can bring reliability challenges due to the variable nature of green energy solutions.
Veritone's AI-powered energy solutions enable independent power producers and microgrid developers to more accurately model and predict mining data center energy supply needs. The new contract calls for modeling and simulation of the energy sources required to optimally dispatch 1,000 mW of clean, continuous, and reliable power for crypto mining. The capacity sizing design simulation will leverage wind, solar, and battery sources, with natural gas as a backup power source.
"Veritone's energy modeling and simulation helps independent power producers and microgrid developers plan for the most optimal energy mix before they deploy," said Sean McEvoy, SVP of Energy at Veritone. "For this crypto mining project, during the day, solar and wind will power the data center, while surplus solar and wind power will charge battery systems. At night, battery and wind will power the data center, with natural gas available if needed. This hybrid microgrid / utility grid combination ensures 24×7 continuous operation, with Veritone ensuring supply and demand are always in balance." McEvoy added, "We are seeing broad application of Veritone's technology to not just crypto mining, but improving the energy efficiency of any high power load operation, such as traditional data centers and agricultural operations."
Veritone simulations use Monte Carlo simulation models coupled with a risk-minimizing Veritone optimizer to determine optimal energy mix that considers the number, type, and size of solar panels, wind turbines, and battery storage systems and the dynamic price of these energy sources. The models process millions of data points in real-time,  including weather forecasting, load profile, energy pricing, and energy device parameters and limitations including warranty information around optimal energy storage levels, dissipation levels, temperature, humidity, and other device and environmental factors.
Veritone energy solutions consist of a forecaster, optimizer, and controller to add optimization and resilience to any macro or microgrid. Veritone uses these technologies to simulate optimal energy supply mix and price for a range of devices and grid strategies. This simulation provides a blueprint for smart grid deployment, and ensures compliance with regulatory requirements.
"With cryptocurrency mining using clean energy now more than ever, Veritone gives miners and the energy producers that power them with the assurance that they will always have the energy they need at the lowest possible cost," said Chad Steelberg, Veritone CEO. "By optimizing data centers with dynamic AI models that intelligently route energy, we extend our core mission to build a safer, more vibrant, transparent, and empowered society through AI."
For more information on Veritone Energy Solutions, please visit: https://www.veritone.com/solutions/energy/
---
About Veritone
Veritone (Nasdaq: VERI) is a leading provider of artificial intelligence (AI) technology and solutions. The company's proprietary operating system, aiWARE™ powers a diverse set of AI applications and intelligent process automation solutions that are transforming both commercial and government organizations. aiWARE orchestrates an expanding ecosystem of machine learning models to transform audio, video, and other data sources into actionable intelligence. The company's AI developer tools enable its customers and partners to easily develop and deploy custom applications that leverage the power of AI to dramatically improve operational efficiency and unlock untapped opportunities. Veritone is headquartered in Denver, Colorado and has offices in Costa Mesa, Denver, London, New York and San Diego. To learn more, visit www.veritone.com.
Safe Harbor Statement
This news release contains forward-looking statements, including without limitation statements regarding the expected capabilities of Veritone's microgrid modeling, simulation, and other Energy solutions and the anticipated benefits thereof to customers. Without limiting the generality of the foregoing, words such as "may," "will," "expect," "believe," "anticipate," "intend," "could," "estimate" or "continue" or the negative other variations thereof owr comparable terminology are intended to identify forward-looking statements. In addition, any statements that refer to expectations, projections or other characterizations of future events or circumstances are forward-looking statements. Assumptions relating to the foregoing involve judgments and risks with respect to various matters which are difficult or impossible to predict accurately and many of which are beyond the control of Veritone. Certain of such judgments and risks are discussed in Veritone's SEC filings. Although Veritone believes that the assumptions underlying the forward-looking statements are reasonable, any of the assumptions could prove inaccurate and, therefore, there can be no assurance that the results contemplated in forward-looking statements will be realized. In light of the significant uncertainties inherent in the forward-looking information included herein, the inclusion of such information should not be regarded as a representation by Veritone or any other person that their objectives or plans will be achieved. Veritone undertakes no obligation to revise the forward-looking statements contained herein to reflect events or circumstances after the date hereof or to reflect the occurrence of unanticipated events.