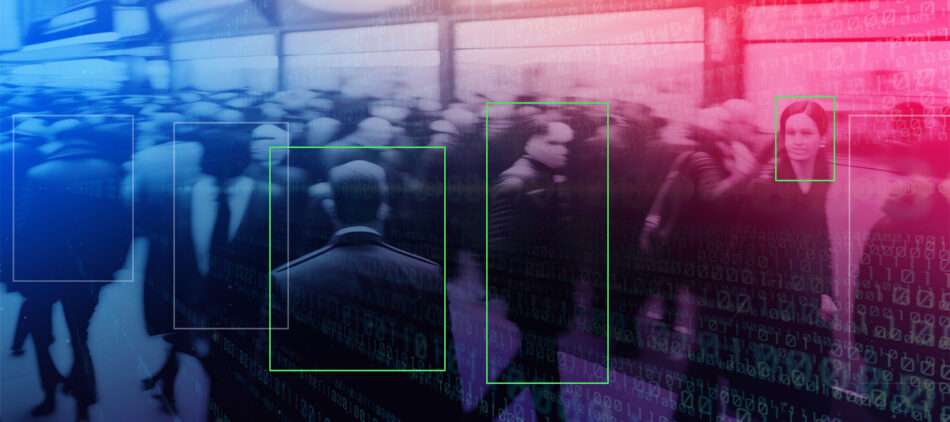 04.6.23
The Challenges of Tracking Persons of Interest Across Video Files (Part 3)
Summary: 
Government agencies are inundated with video evidence that historically would have to be reviewed manually, frame-by-frame 

Finding a missing person, human trafficking prevention and prosecution, and apprehending criminals are key use cases for Veritone Tracker 

Veritone Tracker doesn't use legacy facial recognition technology but uses a new innovative method that helps maintain PII
---
The last blog discussed how the new AI technology,  Human-Like Object (HLO) identification used in Veritone Tracker, does not rely on facial recognition. For this reason, government agencies can overcome the concerns around facial recognition. That type of technology does not do well with footage that shows crowds, and it also raised serious concerns about privacy and maintaining personally identifiable information (PII). 
Now, after discussing how the new technology works,  let's take a look at some of the key use cases for this new technology. Focusing first on how government law enforcement agencies can use it, we'll also look at how entities not associated with the government can use it in the next blog. But for now, let's start with the top three use cases for government agencies. 
Accelerating Missing Person Investigations 
In a given year, roughly 600,000 people go missing. Most of them are found, with roughly 1% remaining missing. That might seem small, but that's actually 6,000 people still missing. When someone goes missing, law enforcement uses certain techniques and tools, including license plate scanners, online databases, social media, and interviews, to accumulate intel on the person's potential whereabouts. 
But if you have to analyze multiple videos across different platforms (and of varying lengths), that quickly decelerates the investigative process. Veritone Tracker looks for defined human-like objects, such as clothing or jewelry that the known missing person, or someone associated with the missing person, was wearing, and surfaces moments in the video where they appear. This can help investigators surface only the places they need to review rather than watching frame-by-frame. It saves tens of hours of time and allows teams to be more productive in other ways to help solve cases.
Preventing and Solving Human Trafficking Cases 
Human trafficking, sadly, is one of the top revenue-earning crimes in the world. The industry is estimated to be a $150 billion industry. From 2011 to 2020, there were 2,198 people referred to U.S. Attorneys for human trafficking offenses, a 62% increase. There was also an 84% increase in persons prosecuted for this type of crime in the same year. The pandemic also exacerbated the problem with increased internet usage, putting more people at risk because it's the top medium traffickers use. 
Veritone Tracker can be used to help with the mission established by the Tracking Victims Protection Act, which established the three "P's:" protection, prevention, and prosecution. Tracker accelerates searching for persons of interest across these video files if there's video evidence. Doing so can help accelerate investigations by reducing manual review of any video evidence to help with prosecutions and prevention. 
Searching for Criminals at Large or for Prosecution
There's a multitude of sources to capture video content. Security cameras, traffic cameras, home security cameras, and smartphones and tablets, to name a few. When you fold in bodycam footage, which will only increase as agencies continue to adopt it worldwide, it's no surprise that nearly 80% of all crimes have some form of video evidence. 
Whether you are conducting an active investigation of a crime or building a case to prosecute one, identifying only the moments within video files relevant to the crime was previously a laborious task. To cut down on the hours it takes to review manually, Veritone Tracker helps surface those key moments so you spend less time reviewing evidence and more time apprehending or prosecuting criminals. 
---
Further Reading: 
Orange Police Department on Veritone Contact 
Redaction in the Digital Age: Here's What You Need to Know 
Oregon Police Department Selects Veritone Redact 
Sources: 
https://www.findlaw.com/legalblogs/criminal-defense/5-things-to-know-about-missing-persons-reports/
https://www.wvnstv.com/digital-desk/how-many-missing-persons-are-found-in-the-u-s-yearly
https://polarisproject.org/wp-content/uploads/2020/07/Polaris-Analysis-of-2021-Data-from-the-National-Human-Trafficking-Hotline.pdf
https://bjs.ojp.gov/library/publications/human-trafficking-data-collection-activities-2022
https://bja.ojp.gov/sites/g/files/xyckuh186/files/media/document/final-video-evidence-primer-for-prosecutors.pdf