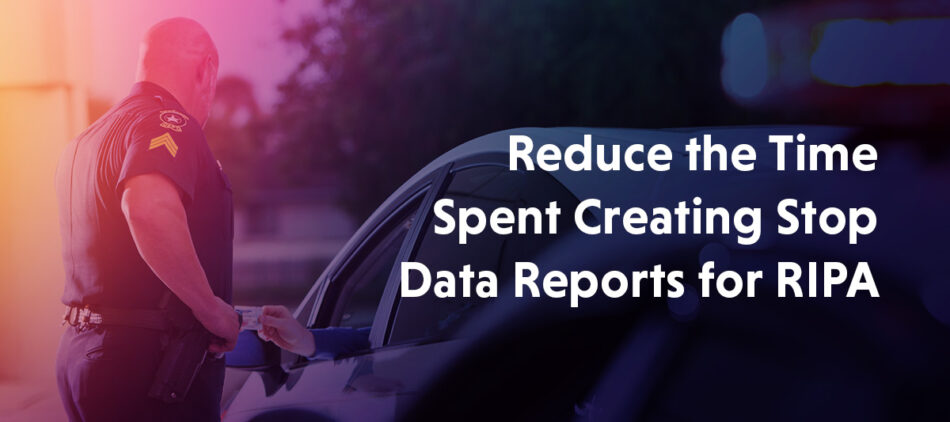 09.27.22
Reduce the Time Spent Creating Stop Data Reports for RIPA
Since the passage of California AB 953 Racial and Identity Profiling Act (RIPA), California law enforcement agencies are facing a serious problem. Agencies must comply with the law, but officers are wasting time creating reports, reducing their ability to stay on patrol and keep their communities safe. Many of the existing RIPA reporting solutions have technology shortcomings that create time inefficiencies and rigidity in the information collected.
For instance, when an officer makes a stop where more than one person is involved, they have to build multiple reports for each person—and that's just for one stop. The Orange Police Department does approximately 13K stops a year. With each report taking anywhere from five to ten minutes per person with certain solutions, officers spend an inordinate amount of time writing reports in their stationary cars rather than actively patrolling.
Time and workflow challenges are not exclusive to the officers on the street either. Supervisors must also review the reports to remove all instances of personally identifiable information (PII) to protect the safety of civilians and officers. This takes time too.
Once approved, the RIPA reports are sent to the California Department of Justice, which issues an annual report for each reporting agency. Therefore, the accuracy of each individual stop that is reported is paramount.
Many of the RIPA solutions do not enable officers to add additional information or questions to ensure that they accurately capture detailed information, showing greater civilian leadership agency performance and understanding of the health of their community.
Recently, Orange Police Department deployed Veritone Contact, a stop data collection tool for the field, built in collaboration with California law enforcement agencies. Before adopting the Veritone solution, one of Orange PD's goals was to reduce the amount of time officers spend filing reports to remain in compliance with RIPA legislation. They discovered officers were spending approximately 10 minutes per stop just to collect data. 
Doing the math, they calculated officers spent two hours a day reporting rather than patrolling. A secondary goal of the agency was needing a solution where an officer could file a single report involving multiple individuals rather than submitting a single report, per person, per stop.
By using Veritone Contact, Orange Police Department reduced reporting to two minutes, giving officers more time to keep their communities safe. It also reduces the burden on supervisors who can quickly check for PII and approve reports more effectively and efficiently than before, so they can divert their attention back to managing staff. With this information, community leaders can make better decisions and have greater transparency about the performance of their local law enforcement agencies.