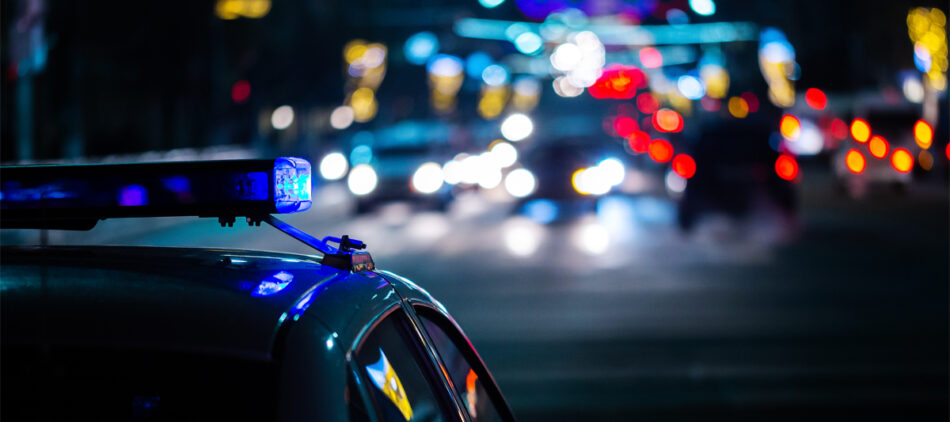 10.19.23
How RIPA Changes in 2024 Will Affect Law Enforcement Agencies
On June 27, 2023, Governor Gavin Newsom and California legislators approved and enacted the state's budget for the fiscal year 2023-2024, totaling $310.8 billion. Within this budget, a sum of approximately $141.4 million has been designated to cover mandated costs for county and local public agencies, with $50.5 million specifically allocated for the Racial and Identity Profiling Act (RIPA).
Additionally, the State of California has introduced new reporting obligations for RIPA, effective from 2024, through Assembly Bill 2773. This legislation mandates that law enforcement agencies (LEAs) gather a new category of information, referred to as a "data element," as part of their RIPA reporting requirements.
Summary:
In this blog, we'll cover:
The most recent developments regarding RIPA reimbursements, including anticipated reimbursement timelines and the recipients likely to receive their reimbursement checks

The new 2024 RIPA reporting question mandates mandated by the California Department of Justice

How Veritone Contact software application aligns with these new 2024 requirements
About RIPA
The California Racial and Identity Profiling Act (RIPA) is a pivotal piece of legislation enacted to combat racial and identity profiling within LEAs throughout the state. Passed in 2015, RIPA aims to address concerns of bias and discrimination by requiring law enforcement officers to collect data on detentions, searches, and other interactions with the public. 
This data includes information about the perceived race, ethnicity, gender, and other demographic characteristics of individuals stopped by the police. By mandating the collection and analysis of this data, RIPA seeks to hold law enforcement agencies accountable for any disparities in their practices and promote transparency, equity, and fair treatment in policing, ultimately striving to foster trust and cooperation between communities and the police.
Goals of the RIPA Board
Eradicate racial and identity profiling

Enhance diversity and promote racial and identity sensitivity within law enforcement

Conduct annual reviews and analysis of stop data submissions from across the state

Offer recommendations to the California State Attorney General's Office
Improved Data Collection
Gather information on perceived race or ethnicity, gender, and approximate age of individuals subjected to stops

Record additional data, including the reason for the stop, whether a search was conducted, and the outcomes of any such search
RIPA "Wave" Rollout
| | | | | |
| --- | --- | --- | --- | --- |
| Wave | Agency Count | Officer Count | Start Collection | Start Submission |
| 1 | 6 | 1,000+ | July 2018 | April 2019 |
| 2 | 4 | 667-999 | January 2019 | April 2020 |
| 3 | 13 | 334-666 | January 2021 | April 2022 |
| 4 | 530 | 1-333 | January 2022 | April 2023 |
The History of SB 90 and State-Mandated Cost Reimbursement 
Senate Bill 90 (SB 90), known as the "Property Tax Relief Act of 1972," and Proposition 4 (1979) hold significance in the context of California's fiscal policies. Here are some points to keep in mind:
SB 90
SB 90 was enacted by the State Legislature with the aim of constraining local governments' authority to raise property tax rates. Consequently, the State of California committed to providing financial assistance, in the form of a subvention of funds, to cover unfunded state-mandated costs.
Proposition 4
Proposition 4, introduced in 1979, served as a subsequent initiative to Proposition 13 (1978) and, likewise, pledged financial support in the form of subvention funds to offset unfunded state-mandated costs.
The Commission on State Mandates
The Commission on State Mandates, operating as a quasi-judicial body determines which legislative bills and executive orders in California qualify as reimbursable mandates for local governments and defines the specific eligible costs that can be reimbursed.
The State Controller's Office
The State Controller's Office, which acts as the Chief Fiscal Officer of the State of California, issues Claiming Instructions for Reimbursable Programs, receives claims from local government agencies, and adjudicates and disburses eligible claims while also conducting audits to assess the reasonableness of claims.
FY 2021-22 Annual Law Enforcement Claims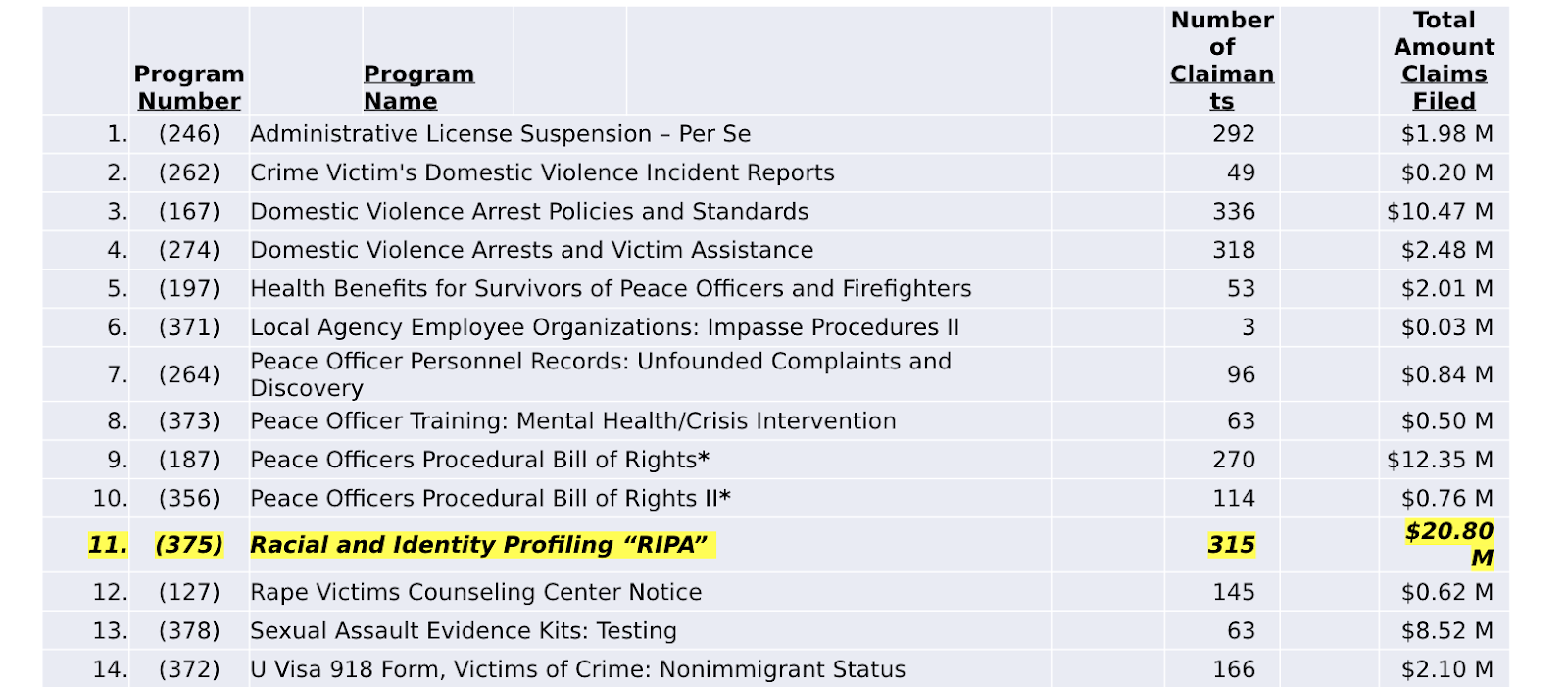 This comes out to a total of $63.66 M, with RIPA claimants taking up about 32.7% of those total claims.
About Veritone Contact
One solution that can help with the financial and time costs of RIPA is Veritone Contact, an innovative and powerful AI application designed specifically for LEAs to streamline and enhance their stop data collection processes. With Veritone Contact, LEAs can significantly improve their operational efficiency and build greater trust and transparency with the communities they serve.
Created in collaboration with the California State Department of Justice and major city LEAs, this application for gathering stop data significantly cuts down the time officers spend on data collection, optimizes the data review process, and offers fast insights to command staff, which supports training efforts and strengthens transparency initiatives—all while improving department costs and time contraints. 
Reimbursable Cost Components for RIPA
For many agencies, RIPA presents a potential cost issue, mostly in the form of employee efforts and hours. However, they are reimbursable components when it comes to the implementation of RIPA within your agency.
Reimbursable One-Time Activities 
Training each officer and supervisor assigned to perform RIPA reporting, audits, and validation.

Installation and testing of software for RIPA reporting, audits, and validation.
Reimbursable Ongoing Activities 
Identification of the peace officers required to report stops

Maintaining a system to match individual officers to their Officer I.D. number

Data collection and reporting on all stops

Electronically submitting data to the Department of Justice and retaining collected stop data

Auditing and validating collected data 

Ensuring the identities of the individual and the peace officer involved are not transmitted to the Attorney General in an open-text field within collected stop data
Not only does Veritone Contact provides ongoing activity benefits and efficiency over state-supplied alternatives, but it also easily helps auditors calculate some of the reimbursable on-going costs.
Amended RIPA Reporting Requirements in 2024
The amended RIPA reporting requirements for 2024 usher in a significant evolution in law enforcement practices and data collection. These revisions introduce new and enhanced elements to the RIPA reporting framework. 
Summary of Changes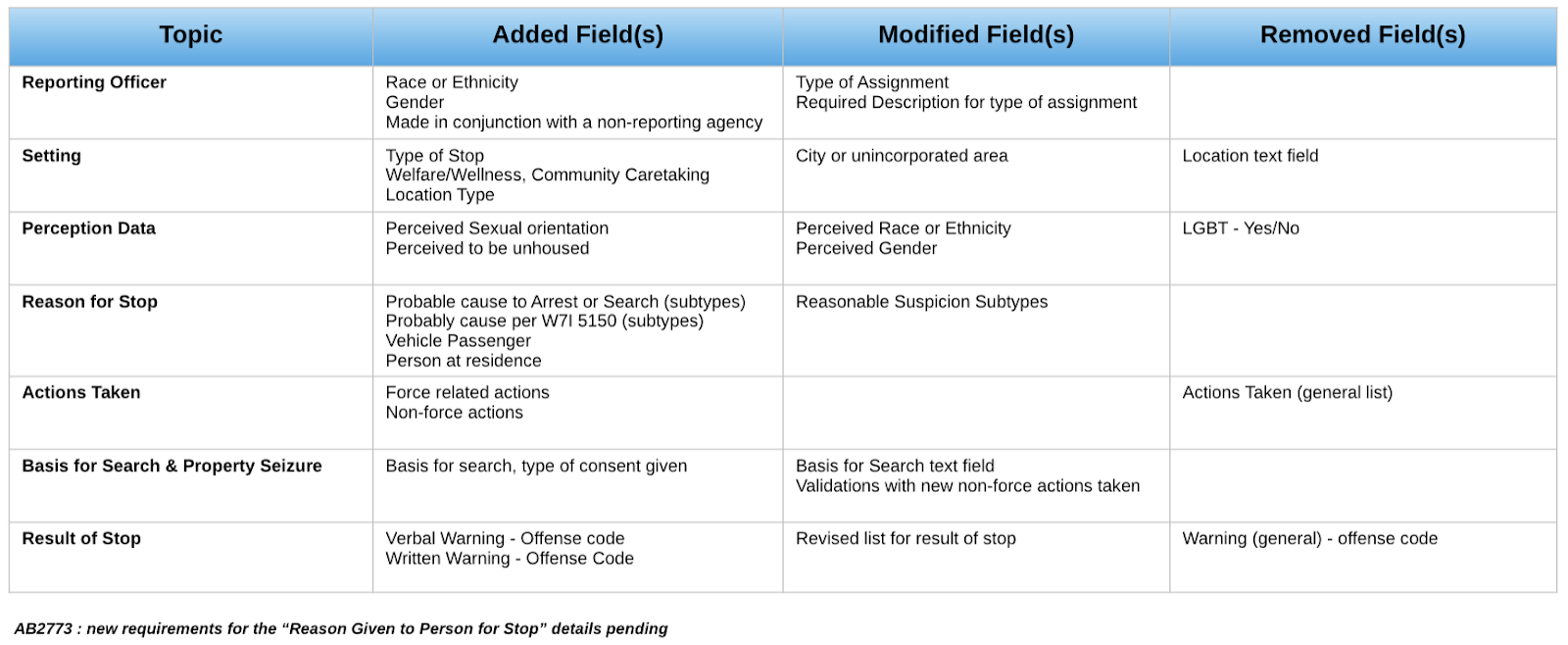 These amendments represent a critical step towards greater transparency, accountability, and the continual pursuit of eliminating racial and identity profiling within law enforcement, aligning with the state's commitment to justice and equity.
The Timeline of Phases Based on DOJ Planning
Kick-off & Planning 

Development 

AB 2773 technical details pending

Other development work complete

Testing

Complete test scenarios required by DOJ

Submit reports to test environment 

Agency testing rollout (as required)

Training

Ongoing training to agencies, support staff

Go-Live

Testing and training sign-offs

Dual reporting will be available based on the stop date

Ongoing monitoring for errors
With Veritone Contact, the testing phase will include testing from both Veritone and agencies. Veritone Testing will follow DOJ test plans to validate application and reporting accuracy, while agency testing will have two options:
Agencies have to follow a strict submission process for testing

Agencies should get familiar with reporting, but report delivery is not required
The test plans will decide how Veritone will set up test environments for agencies and what instructions will be provided.
For the training phase, Veritone will provide agencies with updated resource articles and training documentation and materials including videos, webinars, and other opportunities.
Closing Thoughts
California RIPA best practices are vital for ensuring the fair and lawful use of digital evidence in law enforcement investigations. Veritone Contact offers an innovative and affordable solution that empowers agencies to meet these best practices with ease, enhancing data security, transparency, and efficiency in the process. 
As LEAs across California strive for compliance with RIPA, Veritone Contact stands out as a valuable tool for meeting the demands of a rapidly evolving digital landscape while preserving the rights and privacy of individuals.
To learn more about RIPA reimbursement updates and reporting, watch this webinar from Sep. 2023 from the Veritone team, and for more information on Veritone Contact, reach out for a free demo today.