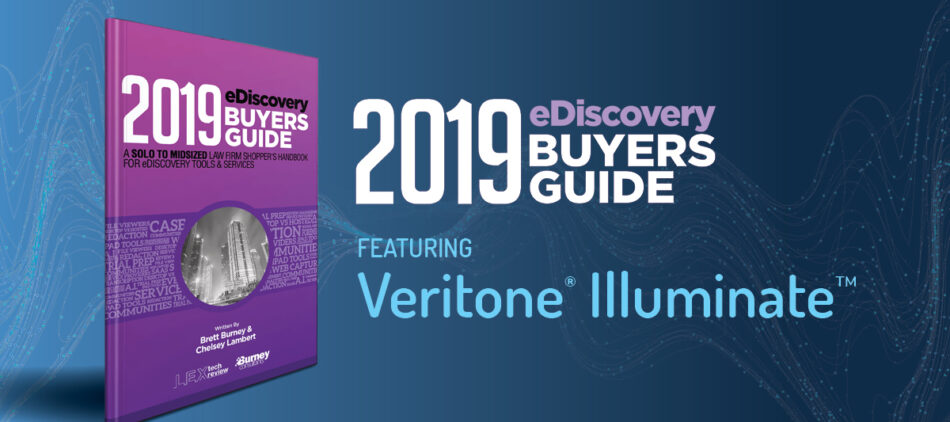 08.28.19
Veritone Illuminate Featured in 2019 eDiscovery Buyers Guide
Industry Guide's 3rd Edition Includes Video Review Resources Comparing Top Legal Tools
Released in August, the 2019 eDiscovery Buyers Guide provides key comparison data to help law firms select innovative new eDiscovery products quickly and inexpensively. A review of Veritone Illuminate is included in the guide's 3rd edition in its Audio Discovery section. The guide, a leading industry tool; was created for solo and small to mid-sized law firms and delivers a detailed analysis of the primary categories of litigation support products and services.
The 2019 eDiscovery Guide includes new video highlight review summaries to help law firms select the eDiscovery products and service providers that best meet their budget and average case size. The guide, along with all video review content, is free to download online.
"We are honored to be featured in the 2019 eDiscovery Buyers Guide," said Michael Swarz, Product Marketing Manager, Legal at Veritone.  "For more than 5 years, our company has provided innovative tools to help legal firms of all sizes improve the electronic discovery process. We are excited at the opportunity to offer our products and services to even more customers."
View the Veritone Illuminate product review video here.
"The landscape of eDiscovery solutions has changed. Small to mid-sized law firms have options no matter their size or volume of cases," said Brett Burney, Principal of Burney Consultants and eDiscovery Buyers Guide author. "The 2019 eDiscovery Buyers Guide is a shoppers handbook designed to save time and resources and connect law firms with the best eDiscovery products to enhance their work."
In addition to product reviews, the 2019 eDiscovery Buyers Guide includes contributions from leading legal professionals with hands-product and service experience. Each product and service provider included in the guide is carefully vetted to ensure suitability for small to mid-sized law firms.
"Our goal is to de-mystify the eDiscovery product landscape – from artificial intelligence and machine learning to cloud-based software solutions – the market is adding affordable new tools that enhance the day-to-day business of running a law firm at a rapid pace," said Chelsey Lambert, Founder and CEO of Lex Tech Review and eDiscovery Buyers Guide author.
To learn how Veritone Illuminate can help you boost your legal case efforts and gain actionable insights from audio, video, and text documents, visit legal.