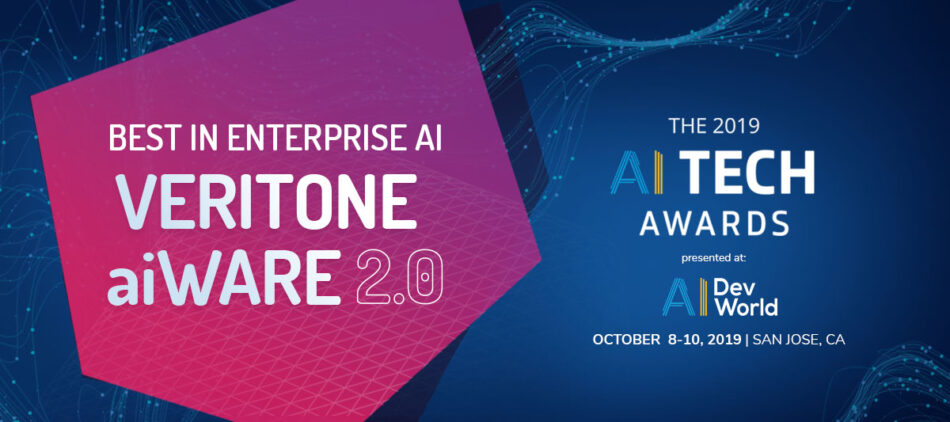 09.10.19
Veritone Honored with 2019 AI TechAward in Enterprise AI for aiWARE 2.0 Platform
The AI Tech Awards, which celebrate innovation, adoption and reception in the AI, machine learning and data science industries and by the developer community, has announced that Veritone (NASDAQ: VERI) has won a 2019 AI TechAward in Enterprise AI. 
The 2019 TechAwards received hundreds of nominations. Winners were selected by its advisory board and judged based on the following criteria: attracting notable attention and awareness in the AI, machine learning and data science industry; general regard and use by the developer and engineering community; and being a leader in the sector for innovation. 
Veritone was selected thanks to our aiWARE 2.0 platform, which launched in April 2019 and is the second generation for the world's first operating system for AI. The updated platform offers new capabilities that further empower organizations to deploy AI-enabled custom and turnkey software solutions quickly and without significant machine learning expertise. aiWARE is changing how our customers deploy AI, enabling their adoption and expansion of AI to gain a competitive edge through cost-effective, intelligent operational tools and software offerings for their own customers. 
"Veritone aiWARE is a great example of how businesses can harness fast and ever-evolving AI and machine learning technologies. By providing access to an expansive cognitive engines ecosystem through a common software infrastructure, Veritone users are enabled to build AI-enabled applications and enrich new and existing workflows fast and at scale even without in-depth technical AI/ML expertise," said Jonathan Pasky, Executive Producer & Co-Founder of DevNetwork, producer of AI Dev World & the 2019 AI TechAwards. "Today's Veritone's win here at the 2019 AI TechAwards is evidence of their leading role in the growth of the AI ecosystem."
The AI TechAward for Enterprise AI will be presented to the Veritone team at the 2019 AI TechAwards Ceremony at the AI Dev World conference, which takes place October 8-10 at the San Jose Convention Center. For more information on aiWARE and how it can help your company deploy AI-enabled custom and turnkey software solutions quickly and easily, please visit https://www.veritone.com/aiware/.