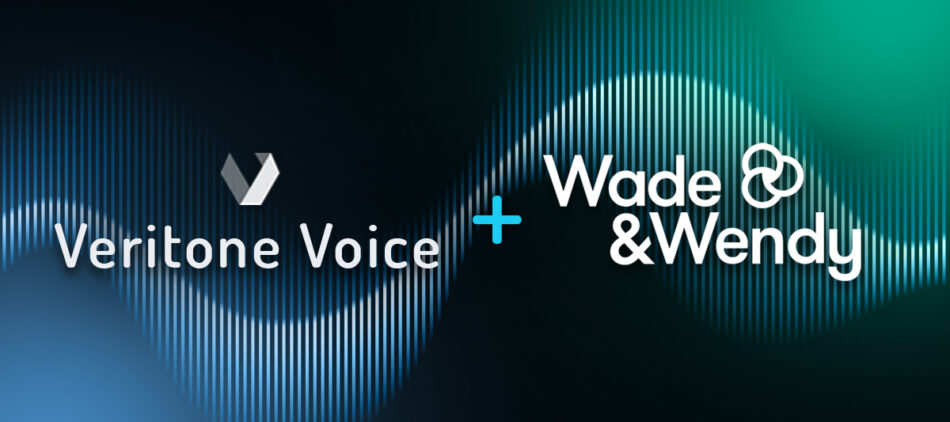 11.3.21
Veritone Delivers the Metaverse to the Global Enterprises with Integration of Synthetic Voice and Conversational AI
Veritone Voice synthetic voice solution now fully integrated with conversational AI Wade & Wendy platform
Veritone, Inc. (NASDAQ: VERI), creator of aiWARE, a hyper-expansive Enterprise AI platform, announced today a fully integrated platform with Veritone Voice's synthetic voice and Veritone-owned Wade & Wendy conversational AI platform. With businesses across all industries now realizing the power of AI, these combined technologies create a scalable and insight-driven automated human voice interaction process that will initially enable new and intelligent AI-enabled recruitment processes and future enterprise expansion into the metaverse.
With this integrated solution, Veritone has created a highly intelligent automated process allowing organizations within both real and immersive digital worlds to automate the screening process for potential new employees and make faster-informed decisions.
"It's been our aspiration to accelerate PandoLogic's Wade & Wendy platform beyond conversational recruiting processes and expand it into virtual realities. This integration with Veritone Voice makes it possible," said Terry Baker, chief executive officer of PandoLogic. "Conversational AI can be applied to a variety of use cases such as patient in-take in health and wellness sectors, sales and customer service across industries, virtual assistants, and more."

"The integration of Veritone Voice and Wade & Wendy's conversational AI with digital human platforms create a more meaningful connection that is missing when machines are deployed to interact with humans," said Ryan Steelberg, co-founder and president of Veritone. "We now have an intelligent platform that adds the human touch in recruitment processes and the future metaverse experiences through intelligent conversational AI."
 
Experience the Veritone Voice and Wade & Wendy integration in this short demo:
---
About Veritone
Veritone (NASDAQ: VERI) is a leader in enterprise artificial intelligence (AI) solutions. Serving organizations in both commercial and regulated sectors, Veritone's software, services and industry applications simplify data management, empowering the largest and most recognizable brands in the world to run more efficiently, accelerate decision making and increase profitability. Veritone's hyper-expansive Enterprise AI platform, aiWARE™, orchestrates an ever-growing ecosystem of machine learning models to transform audio, video and other data sources into actionable intelligence. Through its robust partner ecosystem and professional and managed services, Veritone develops and builds AI solutions that solve the problems of today and tomorrow.
To learn more, visit Veritone.com.
About PandoLogic
PandoLogic is the leading recruitment marketing and conversational AI platform in North America. Serving the world's most recognizable brands, PandoLogic utilizes advanced AI technology to transform the future of recruiting. PandoLogic's flagship product, pandoIQ, is an AI-enabled talent acquisition platform that empowers employers to reach the right candidates on the right sites for the right price. Making more than 7,000 micro-decisions per minute, pandoIQ automates and optimizes the complexities of job placements at scale and precision levels previously unattainable. Wade & Wendy uses conversational AI, to support companies in acquiring talent, converting job seekers into high quality applicants and making informed hiring recommendations throughout the recruiting process.
PandoLogic is a wholly-owned subsidiary of Veritone, Inc. (NASDAQ: VERI), a leader in enterprise artificial intelligence. To learn more, visit PandoLogic.com.
Safe Harbor Statement
This news release contains forward-looking statements. Without limiting the generality of the foregoing, words such as "may," "will," "expect," "believe," "anticipate," "intend," "could," "estimate" or "continue" or the negative or other variations thereof or comparable terminology are intended to identify forward-looking statements. In addition, any statements that refer to expectations, projections or other characterizations of future events or circumstances are forward-looking statements. Assumptions relating to the foregoing involve judgments and risks with respect to various matters which are difficult or impossible to predict accurately and many of which are beyond the control of Veritone. Certain of such judgments and risks are discussed in Veritone's SEC filings. Although Veritone believes that the assumptions underlying the forward-looking statements are reasonable, any of the assumptions could prove inaccurate and, therefore, there can be no assurance that the results contemplated in forward-looking statements will be realized. In light of the significant uncertainties inherent in the forward-looking information included herein, the inclusion of such information should not be regarded as a representation by Veritone or any other person that their objectives or plans will be achieved. Veritone undertakes no obligation to revise the forward-looking statements contained herein to reflect events or circumstances after the date hereof or to reflect the occurrence of unanticipated events.