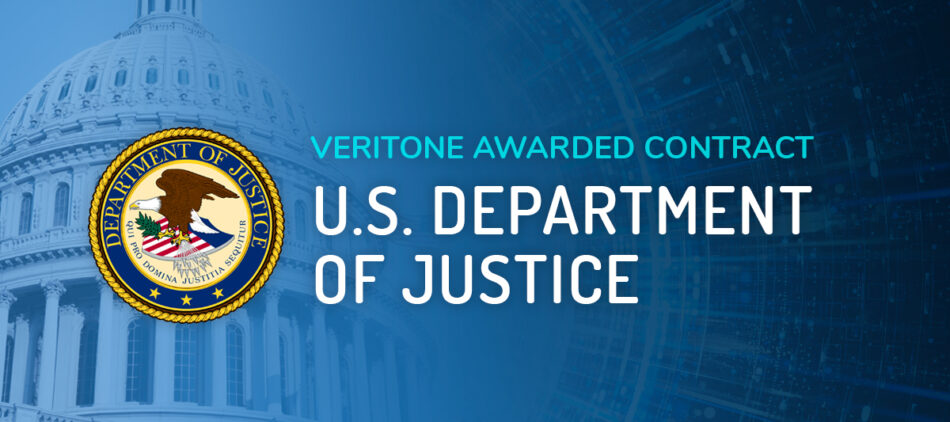 05.12.20
Veritone Awarded Contract by the U.S. Department of Justice
aiWARE Government to provide agencies with select artificial intelligence (AI) services and receives FedRAMP authorization extension
Veritone, Inc. (Nasdaq: VERI), the creator of the world's first operating system for artificial intelligence, aiWARE™, today announced that it has received a two-year Indefinite Delivery Indefinite Quantity (IDIQ) contract for its aiWARE Government platform from the U.S. Department of Justice (DOJ). aiWARE Government services may be ordered under the contract by the DOJ and the 94 United States Attorneys Offices (USAOs) throughout the country.
The contract includes AI-enabled audio and video transcription and translation services powered by aiWARE. The DOJ identified aiWARE Government as the sole source available to meet DOJ's requirements for these AI-enabled services. The services can be accessed directly through the DOJ's eDiscovery platform to expedite evidence discovery, greatly reducing human labor and associated costs. Case teams can leverage aiWARE to support the search, discovery and analysis of large amounts of information, regardless of data type or language.  
Sponsored initially by the DOJ, aiWARE Government received FedRAMP authorization in March 2019 and is available in the FedRAMP Marketplace for federal agencies to use. The updated aiWARE Government platform recently underwent another stringent assessment of data security, data governance capabilities and practices and achieved recertification status on May 4, 2020.

"We appreciate being selected as the provider of AI-based transcription and translation services for the DOJ to assist their agencies with audio and video based discovery, securely and at scale," said Jon Gacek, Head of Government, Legal and Compliance at Veritone. "In our pursuit to help transform government operations through AI-enabled solutions that provide actionable intelligence and tools that save cost, resources and time, this contract represents a major milestone and opportunity for Veritone."
---
About Veritone
Veritone (NASDAQ: VERI) is a leading provider of artificial intelligence (AI) technology and solutions. The company's proprietary operating system, aiWARE™ powers a diverse set of AI applications and intelligent process automation solutions that are transforming both commercial and government organizations. aiWARE orchestrates an expanding ecosystem of machine learning models to transform audio, video, and other data sources into actionable intelligence. The company's AI developer tools enable its customers and partners to easily develop and deploy custom applications that leverage the power of AI to dramatically improve operational efficiency and unlock untapped opportunities. Veritone is headquartered in Costa Mesa, California, and has offices in Denver, London, New York, San Diego, and Seattle. To learn more, visit Veritone.com. 
Safe Harbor Statement
This news release contains forward-looking statements, including without limitation statements regarding the expected benefits of Veritone's aiWARE Government platform, including time and cost savings, to the DOJ and other government customers. Without limiting the generality of the foregoing, words such as "may," "will," "expect," "believe," "anticipate," "intend," "could," "estimate" or "continue" or the negative or other variations thereof or comparable terminology are intended to identify forward-looking statements. In addition, any statements that refer to expectations, projections or other characterizations of future events or circumstances are forward-looking statements. Assumptions relating to the foregoing involve judgments and risks with respect to various matters which are difficult or impossible to predict accurately and many of which are beyond the control of Veritone. Certain of such judgments and risks are discussed in Veritone's SEC filings. Although Veritone believes that the assumptions underlying the forward-looking statements are reasonable, any of the assumptions could prove inaccurate and, therefore, there can be no assurance that the results contemplated in forward-looking statements will be realized. In light of the significant uncertainties inherent in the forward-looking information included herein, the inclusion of such information should not be regarded as a representation by Veritone or any other person that their objectives or plans will be achieved. Veritone undertakes no obligation to revise the forward-looking statements contained herein to reflect events or circumstances after the date hereof or to reflect the occurrence of unanticipated events.