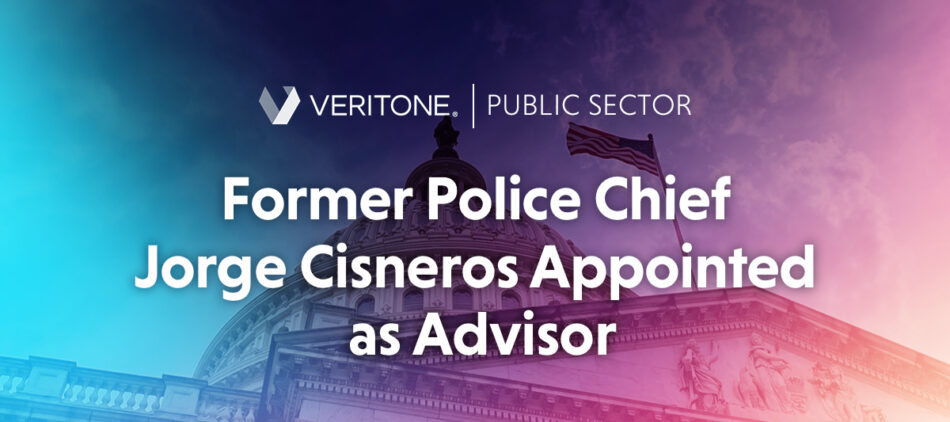 10.31.23
Veritone Appoints Former Police Chief Jorge Cisneros as Advisor
Cisneros Assumes Key Role to Advance Veritone's Public Sector Division Strategic Initiatives
Veritone, Inc. (NASDAQ: VERI), a leader in designing human-centered AI solutions, today announced that it has appointed former Anaheim, Calif. Chief of Police Jorge Cisneros as a Law Enforcement Advisor of Veritone Public Sector. Cisneros will work alongside Veritone's team to empower law enforcement agencies with the latest AI-driven tools for accelerating investigations, protecting personally identifiable information and improving public safety.
"I am honored to join Veritone on a shared mission to empower law enforcement with tools for improving public safety," said Cisneros. "I have experienced firsthand how Veritone's AI-powered solutions, now actively serving hundreds of state and local agencies, can transform law enforcement operations. I look forward to collaborating with the Veritone team and contributing to their mission of making our communities safer and more secure."
In his role as an advisor, Cisneros will focus on business development initiatives, including providing invaluable guidance on key law enforcement trends and advocating for Veritone's AI-powered solutions, which enable law enforcement professionals to spend less time on repetitive tasks and more time serving, protecting and leading. Cisneros' unique perspective, derived from his tenure as Chief of the Anaheim Police Department, will be instrumental in catering to the specific needs of law enforcement agencies. 
"Chief Cisneros is a tremendous addition to our team. His deep-rooted connections and wealth of insights gained from more than 30 years in law enforcement make him an invaluable asset," said Jon Gacek, General Manager for Veritone Public Sector. "As we advance and expand our AI-powered solutions to help law enforcement solve superhuman challenges, Chief Cisneros will play an active role in validating and advocating for our offerings in the public safety space, further bolstering our credibility and impact."
Cisneros brings a distinguished background to his position at Veritone. He began his career in 1991 as a detective and police officer with the Long Beach Police Department, eventually serving as Chief of the Huntington Park Police Department in Los Angeles County and later as the Chief of the University of California, Irvine Police Department. Most recently, Cisneros served as the 36th Chief of the Anaheim Police Department, overseeing nearly 600 employees, from 2018 until his retirement earlier this year.
Veritone Public Sector is dedicated to providing state-of-the-art AI-powered solutions that address the unique challenges faced by government agencies, legal organizations and compliance professionals. These solutions are designed to accelerate data ingestion and analysis, case processing, enhance Freedom of Information Act requests and facilitate the discovery and management of critical evidence. Characterized by their cloud-agnostic nature, FedRAMP Authorization and Criminal Justice Information Services compliance, Veritone's advanced technology ensures the highest standards of security and accessibility. 
For more information about Veritone Public Sector solutions, please visit www.veritone.com.
---
About Veritone
Veritone (NASDAQ: VERI) designs human-centered AI solutions. Serving customers in the talent acquisition, media, entertainment and public sector industries, Veritone's software and services empower individuals at the world's largest and most recognizable brands to run more efficiently, accelerate decision making and increase profitability. Veritone's leading enterprise AI platform, aiWARE™, orchestrates an ever-growing ecosystem of machine learning models, transforming data sources into actionable intelligence. By blending human expertise with AI technology, Veritone advances human potential to help organizations solve problems and achieve more than ever before, enhancing lives everywhere.
To learn more, visit Veritone.com.
Safe Harbor Statement
This news release contains forward-looking statements. Without limiting the generality of the foregoing, words such as "may," "will," "expect," "believe," "anticipate," "intend," "could," "estimate" or "continue" or the negative or other variations thereof or comparable terminology are intended to identify forward-looking statements. In addition, any statements that refer to expectations, projections or other characterizations of future events or circumstances are forward-looking statements. Assumptions relating to the foregoing involve judgments and risks with respect to various matters which are difficult or impossible to predict accurately and many of which are beyond the control of Veritone. Certain of such judgments and risks are discussed in Veritone's SEC filings. Although Veritone believes that the assumptions underlying the forward-looking statements are reasonable, any of the assumptions could prove inaccurate and, therefore, there can be no assurance that the results contemplated in forward-looking statements will be realized. In light of the significant uncertainties inherent in the forward-looking information included herein, the inclusion of such information should not be regarded as a representation by Veritone or any other person that their objectives or plans will be achieved. Veritone undertakes no obligation to revise the forward-looking statements contained herein to reflect events or circumstances after the date hereof or to reflect the occurrence of unanticipated events.