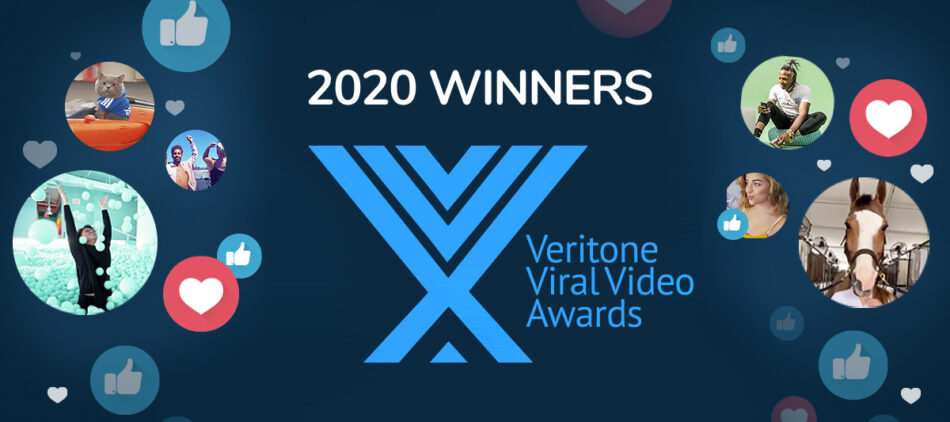 03.16.21
Veritone Announces Winners of Inaugural Viral Video Awards, Recognizing Top User-Generated Content from 2020
Seven categories — including Funniest, Best Pandemic-Related and Content Creator of the Year — were selected by the virtual live audience
Veritone, Inc., (Nasdaq: VERI), the creator of the world's first operating system for artificial intelligence, aiWARE™, and provider of digital content licensing services on behalf of the world's premier sports entities, news organizations and user-generated content (UGC) networks, today announced the winners of its first-ever Veritone Viral Video Awards (VVVAs).The VVVAs were held virtually on Tuesday, February 25, and gave fans and partners the opportunity to watch and vote for their favorite viral videos from 2020. 
The pandemic accelerated the trend of including user-generated content in productions. Not only is user-generated content cost-effective, but it creates a meaningful and authentic connection for viewers. Customers are 2.4x more likely to say user-generated content is authentic compared with brand-created content. The VVVAs highlighted some of the great user-generated content that was produced last year and celebrated the creativity of content creators across the globe.
The event also provided a unique opportunity to showcase some of the varied user generated content available for licensing through Veritone's four UGC libraries: Brave Bison, Collab, Studio71 and Vin Di Bona Productions. The explosion of user-generated content has changed how brands create content and build deeper connections with their fans and audiences.
"Through our premium news and sports libraries, Veritone has licensed content into countless feature films, documentaries and television programs," said Jay Bailey, vice president of entertainment licensing at Veritone. "User-generated content offers a new class of original and unique content that can add authenticity and build a deep connection when used especially in advertisements and other creative projects." 
This year's winners were selected by the live attendee audience. Congratulations to:
The nominees and the winning videos can all be viewed on the Veritone Licensing website, and this content, as well as thousands of other assets, are now available for content creators to leverage in creative projects. 
"Organic user-generated content has become an essential component of any savvy brand's marketing plan," said Mariya Lyanguzova, Senior Licensing Manager at Brave Bison. "UGC has proven to quickly adapt to current events and cultural phenomena, facilitate diversity and representation in branded content, and safeguard production against roadblocks in the current uncertain climate. As such, I believe that UGC has become and will remain the most cost- and time effective tool for creating authentic, meaningful and impactful campaigns that allow brands to really connect with their audiences."
For more information about Veritone's content licensing library and AI-enabled solutions and services, please visit: licensing.veritone.com. 
---
About Veritone
Veritone (Nasdaq: VERI) is a leading provider of artificial intelligence (AI) technology and solutions. The company's proprietary operating system, aiWARE™ powers a diverse set of AI applications and intelligent process automation solutions that are transforming both commercial and government organizations. aiWARE orchestrates an expanding ecosystem of machine learning models to transform audio, video, and other data sources into actionable intelligence. The company's AI developer tools enable its customers and partners to easily develop and deploy custom applications that leverage the power of AI to dramatically improve operational efficiency and unlock untapped opportunities. Veritone is headquartered in Denver, Colorado and has offices in Costa Mesa, Denver, London, New York and San Diego. To learn more, visit