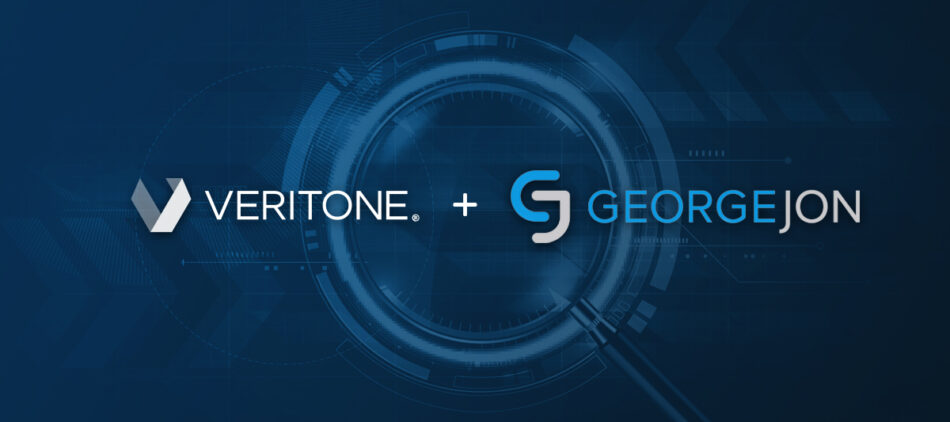 09.22.20
Veritone aiWARE Powers George Jon's eDiscovery Platform Accelerating Evidence Discovery and Analysis
Strategic alliance provides global corporations, law firms, service providers and government agencies with AI-enabled forensic and eDiscovery tools that are fast, scalable and secure
Veritone, Inc. (Nasdaq: VERI), the creator of the world's first operating system for artificial intelligence, aiWARE™, today announced a new strategic alliance with George Jon, a forensic, eDiscovery, and compliance platform, product and service specialist. This strategic alliance enables George Jon's Kits (technology platforms), to leverage Veritone aiWARE as an additional kit standard, accelerating the rapid discovery of actionable evidence critical to eDiscovery.
Powered by Veritone aiWARE, George Jon's GJ Kits deliver advanced transcription, translation and object identification capabilities for video, audio, and document-based evidence (ESI), expediting the eDiscovery process and meeting the growing regulatory, compliance and data privacy needs of global advisory firms, corporations, heavily regulated institutions and law firms. The global eDiscovery software market is projected to grow at a CAGR of 13% to $6.3 billion in 2024, according to Complex Discovery's aggregated eDiscovery market size mashup data.
"We are excited to add a leading eDiscovery application in the forensic, legal, and compliance space to our standard product and service portfolio," says Ashley Legel, George Jon's Global Director of Sales and Business Development. "Veritone's operating system for AI, aiWARE, enables users of all levels to gain access to and leverage the capabilities of artificial intelligence in their day-to-day forensic and eDiscovery processes. We're thrilled to integrate Veritone's AI-powered translation, transcription, and object identification software into our GJ Kits and establish this strategic alliance to put AI directly into the hands of our customers."
Whether your GJ Kit sits on premise, behind the firewall, or in a public or private cloud environment, Veritone and George Jon will collaborate to determine the appropriate, customized hardware and software solution for your unique needs, using George Jon's proven best practices.
"George Jon possesses deep, unmatched knowledge of eDiscovery platforms, products and processes," says Jon Gacek, Head of Government, Legal and Compliance at Veritone. "Our new alliance with George Jon allows global corporations, law firms and service providers to more quickly and seamlessly tap into Veritone's operating system for AI and leverage the power of Veritone aiWARE during their eDiscovery processes."
For more information on Veritone's legal and compliance solutions, please visit https://www.veritone.com/solutions/legal.
---
About Veritone
Veritone (NASDAQ: VERI) is a leading provider of artificial intelligence (AI) technology and solutions. The company's proprietary operating system, aiWARE™, powers a diverse set of AI applications and intelligent process automation solutions that are transforming both commercial and government organizations. aiWARE orchestrates an expanding ecosystem of machine learning models to transform audio, video, and other data sources into actionable intelligence. The company's AI developer tools enable its customers and partners to easily develop and deploy custom applications that leverage the power of AI to dramatically improve operational efficiency and unlock untapped opportunities. Veritone is headquartered in Costa Mesa, California, and has offices in Denver, London, New York and San Diego. To learn more, visit Veritone.com.
About George Jon
George Jon is an eDiscovery platform, product, and service specialist, delivering performant, scalable, fault tolerant environments. We work with global corporations, leading law firms, government agencies, consulting firms, and independent resellers/hosting companies to quickly and strategically implement large-scale Forensic, eDiscovery, and compliance platforms, troubleshoot and perfect existing systems, and provide unprecedented 24/7 core support services to ensure maximum platform performance and uptime. Employing a modular framework that has been tested and perfected over almost a decade and a half of R&D, environments can be customized (i.e., scaled) to individual client needs, budgets and requirements (storage, compute, and application availability). The best practices developed by George Jon have become the standard for global eDiscovery systems, driving productivity, profits and peace of mind throughout the industry. For more information, please visit georgejon.com.
Safe Harbor Statement
This news release contains forward-looking statements, including without limitation statements regarding the integration of Veritone aiWARE and George Jon's GJ Kits, the expected features of the integrated solutions and the expected benefits to customers. Without limiting the generality of the foregoing, words such as "may," "will," "expect," "believe," "anticipate," "intend," "could," "estimate" or "continue" or the negative or other variations thereof or comparable terminology are intended to identify forward-looking statements. In addition, any statements that refer to expectations, projections or other characterizations of future events or circumstances are forward-looking statements. Assumptions relating to the foregoing involve judgments and risks with respect to various matters which are difficult or impossible to predict accurately and many of which are beyond the control of Veritone. Certain of such judgments and risks are discussed in Veritone's SEC filings. Although Veritone believes that the assumptions underlying the forward-looking statements are reasonable, any of the assumptions could prove inaccurate and, therefore, there can be no assurance that the results contemplated in forward-looking statements will be realized. In light of the significant uncertainties inherent in the forward-looking information included herein, the inclusion of such information should not be regarded as a representation by Veritone or any other person that their objectives or plans will be achieved. Veritone undertakes no obligation to revise the forward-looking statements contained herein to reflect events or circumstances after the date hereof or to reflect the occurrence of unanticipated events.