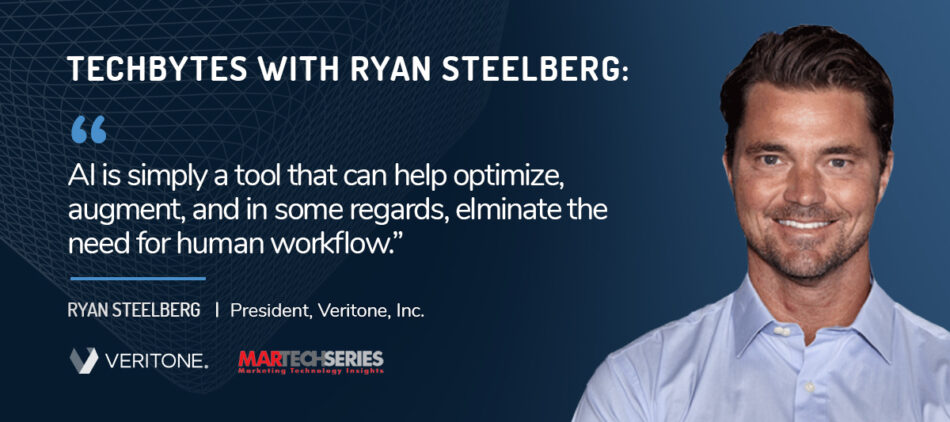 10.21.19
TechBytes with Ryan Steelberg, President at VeritoneTechBytes with Ryan Steelberg, President at Veritone
From Martechseries.com:
What makes Veritone's latest partnership with SF Giants so unique in the Digital Marketing space? 
Veritone provides the San Francisco Giants with the ability to maximize the utilization and monetization of its rich media assets. By ingesting their archive content into our Cloud-based DMH (Digital Media Hub), powered by aiWARE cognition, we provide an indexed, searchable and actional media library. Now, this content is immediately available for Marketing campaigns and sponsorships, consumer experience, social media engagement, etc.
Like the SF Giants, who are other unique customers? What makes Veritone's AI so readily adaptable in modern Digital Transformation scenarios?
Veritone currently works with many leading media and entertainment clients, including media networks, broadcasters, podcasters, movie studios, professional sports teams, and others. Prominent clients include CNBC, Bloomberg, USTA, Pac 12 Conference, Big Ten, Cox Media, iHeartMedia, and others.
Veritone aiWARE makes 320+ cognitive engines easily accessible through one common software infrastructure enabling fast-to-market AI deployments at scale. Users can easily implement, integrate and use aiWARE with their existing IT infrastructure without the need for extensive Machine Learning expertise. In addition, Veritone provides AI-enabled, turnkey applications leveraging aiWARE for common cases such as content discovery, translation, transcription, redaction, etc.
How has fan engagement experiences evolved in the last 12-18 months in baseball and other professional sports?
From Veritone's perspective, we continue to see an ever-increasing appetite for personalized and engaging content, either independently or in conjunction with another application or service, such as Fantasy Sport. Also, the format and nature of content demand continue to expand, including video, on-demand audio including Podcasts and Alexa (voice assistance), imagery, and data (stats, predictions, polls, etc).
What kind of data are you leveraging to continuously feed your AI Engine? 
For our Audio and Video customers, we currently ingest and process ~50K hours/day of content. We run these disparate feeds, streams, files, etc. through various cognitive models, including NLP, Object Detection, OCR, Face Detection and Identification, etc. The data output from this process is immediately actionable, but it also acts as a key component for re-harvesting the data results to continue to refine and tune the model. In addition to this baseline model optimization, we are also looking at multi-variant queues, to better inform or train models. For example, if we are trying to validate humorous sentiment from a person's speech, we can analyze the face, we can reference the video context and look for confirming indicators, such as smiling or laughter. Similar to the human brain, we do envision leveraging multiple different data sets to inform and improve the AI models.
In the modern era of Conversational AI for digitized experiences, how does Veritone identify, acquire and retain loyal customers? 
Veritone currently does not play in the Conversational AI field, as we mostly focus on Enterprise AI. We typically sell through a direct Sales channel, as well as through channel partners and resellers.
Do you think AI capabilities help tech companies to better pitch and sell their products and services to prospects and customers?
We like to say that "No one wants to buy to scoops of AI." AI is simply a tool that can help optimize, augment, and in some regards, eliminate the need for human workflow. Thus, if what tech companies are selling currently invokes AI to improve their products, they absolutely should push AI to the front, but they better have the hard data to prove the impact and ROI.