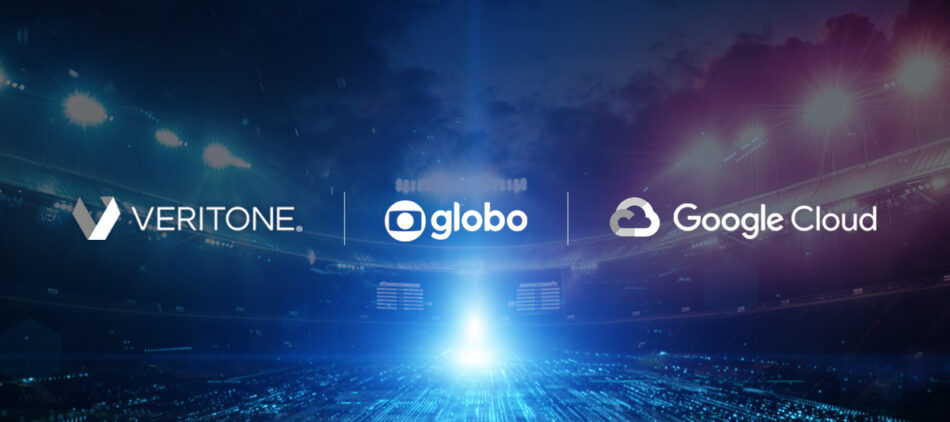 05.3.22
Globo, South America's Largest Media Company, Selects Veritone to Provide Automated Search and Discovery for Sports Content
Veritone partners with Google Cloud to deliver its aiWARE platform to the Brazilian broadcast giant to create and utilize contextual data layer for rights-held sports assets enabling monetization of thousands of hours of content per year
Veritone, Inc. (NASDAQ: VERI), creator of aiWARE™, an expansive Enterprise AI platform, today announced that Globo, South America's largest media company, has selected Veritone aiWARE to provide automated search and discovery for its +2,800 hours of annual sports content. Running on Google Cloud's platform, Veritone aiWARE enables Globo to quickly and easily discover its digital media clips and sports moments for use in highlight reels, films, documentaries, social posts and more, eliminating wasted costs and reducing time spent with internal resources performing manual searches.
Globo controls the leading broadcast television network and the leading pay-TV programmer in Brazil, as well as a diversified group of music content companies. It also has a strong presence in the digital content and multi-platform content distribution business.
"We needed a proven, scalable and reliable system that would enable us to create a contextual data layer for Globo's rights-held sports assets and index thousands of hours of content per year for better searchability," said Marcelo Fontana, Globo's product manager of Media and Entertainment solutions. "Globo selected Veritone aiWARE for its flexibility to run multiple AI models on each piece of content within a secure, network-isolated environment. Recognizing Veritone as one of the biggest companies in enterprise AI software, services and applications, we trust its AI solutions to help Globo address current and future challenges, efficiently and at scale."
Veritone will partner with Google Cloud's services team to deliver a combined solution to Globo. The two companies will together leverage multiple AI models to perform video and image optical character recognition, facial recognition, transcription, translation and other models to build comprehensive, searchable metadata describing many aspects of the content—from text on screen, player faces and names, team logos and names, words spoken, date/time correlations and more. The metadata will then be stored in an integrated archive management platform for later search and discovery.
"We are proud to work with Veritone to ensure the highest level of security and performance for Globo on the Google Cloud platform," says Kip Schauer, Global Head of Media and Entertainment Partnerships at Google Cloud. "By running Veritone's applications in Google Cloud, combined with Google AI and machine learning products, large organizations like Globo are able to seamlessly integrate solutions to power workflows that drive revenue and efficiencies. They also reap the benefits of discovery and assessment tools that can help them understand the cost benefit of moving to the cloud, then execute using Google's broad portfolio of migration solutions."
Veritone's Enterprise AI platform, aiWARE, is the foundation upon which Veritone has helped customers build enterprise-scale AI solutions. Working with hundreds of customers and partners including the world's biggest brands, Veritone enables organizations to run more efficiently, accelerate decision making and increase profitability.
"As we embark on our first Google Cloud implementation of aiWARE internationally, this is an exciting time for Veritone and our customers," says Veritone President Ryan Steelberg. "Particularly with Globo recently signing a massive three-year deal with the Brazilian Football Confederation, the opportunity to partner couldn't have come at a better time. Veritone's AI-powered solutions have been designed to drive digital transformation for leading media and entertainment companies including studios, networks, broadcasters and sports organizations. By automating and simplifying content accessibility, searchability, distribution and analysis, Globo can discover and share content in a way that dramatically improves operational efficiencies and generates new revenue streams."
For more information, visit: Veritone.
---
About Veritone
Veritone (NASDAQ: VERI) is a leader in enterprise artificial intelligence (AI) software and solutions. Serving organizations in both commercial and regulated sectors, Veritone's software, services, and industry applications accelerate and maximize digital migration, empowering the largest and most recognizable brands in the world to run more efficiently, accelerate decision making and increase profitability. Veritone's expansive Enterprise AI platform, aiWARE™, orchestrates an ever-growing ecosystem of machine learning models to transform audio, video and other data sources into actionable intelligence. Through professional and managed services, as well as its robust partner ecosystem, Veritone develops and builds AI solutions that solve the problems of today and tomorrow. To learn more, visit Veritone.com.
Safe Harbor Statement
This news release contains forward-looking statements. Without limiting the generality of the foregoing, words such as "may," "will," "expect," "believe," "anticipate," "intend," "could," "estimate" or "continue" or the negative or other variations thereof or comparable terminology are intended to identify forward-looking statements. In addition, any statements that refer to expectations, projections or other characterizations of future events or circumstances are forward-looking statements. Assumptions relating to the foregoing involve judgments and risks with respect to various matters which are difficult or impossible to predict accurately and many of which are beyond the control of Veritone. Certain of such judgments and risks are discussed in Veritone's SEC filings. Although Veritone believes that the assumptions underlying the forward-looking statements are reasonable, any of the assumptions could prove inaccurate and, therefore, there can be no assurance that the results contemplated in forward-looking statements will be realized. In light of the significant uncertainties inherent in the forward-looking information included herein, the inclusion of such information should not be regarded as a representation by Veritone or any other person that their objectives or plans will be achieved. Veritone undertakes no obligation to revise the forward-looking statements contained herein to reflect events or circumstances after the date hereof or to reflect the occurrence of unanticipated events.