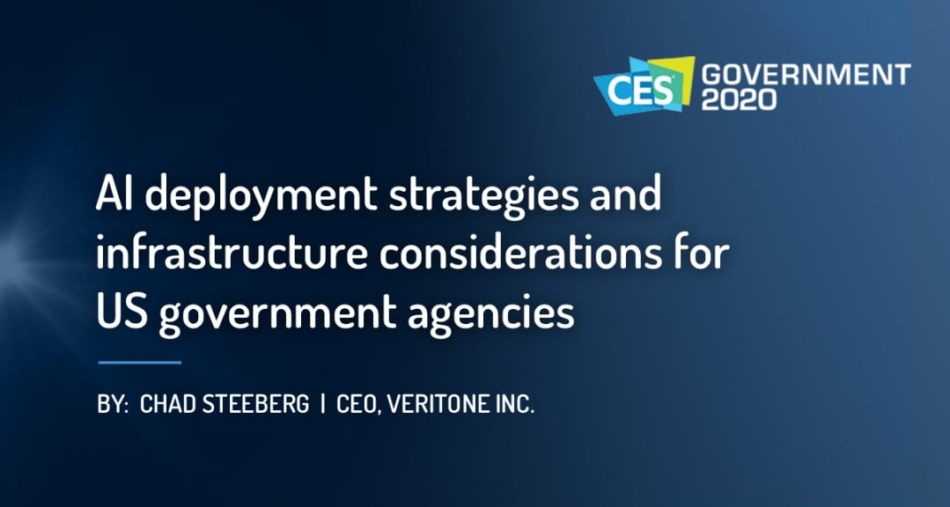 03.10.20
AI deployment strategies and infrastructure considerations for US government agencies
On January 10, I had the opportunity to present for the third year in a row at CES-Government 2020 at the Park MGM Hotel in Las Vegas. And this year, I was joined by executives from three of Veritone's technology partners: Deloitte, Microsoft and Oracle.
Presenting alongside other leaders in artificial intelligence gave me the chance to reflect on how far Veritone and the industry have come in the past year. Over the past 12 months, Veritone's AI operating system, aiWARE, has gained significant traction in the US government through the help of strategic partnerships with Deloitte, Microsoft, Oracle and others. These companies are helping speed the adoption of AI in various agencies.
During my keynote, "Artificial Intelligence: Machine Learning and Mission," we examined the ways agencies can cooperatively leverage AI to achieve astounding results. 
No single company or platform can advance AI to the point of singularity, the point at which machines surpass humans in cognitive and knowledge capabilities. Rather, we must pursue this end collaboratively, sharing insights captured through research, trial and error. Based on our unique experience in the marketplace, Veritone has established four components that we believe are crucial in the race toward singularity: unlimited compute, big data, human input and a flexible operating system.
Four key ingredients for a successful AI deployment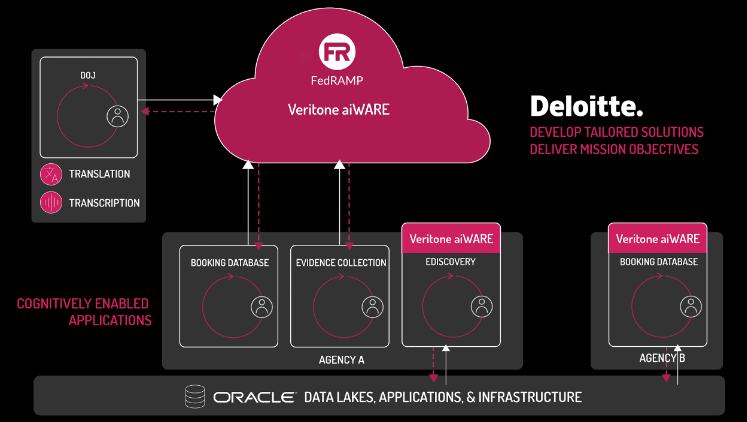 I don't know when we will reach the singularity, but I'm certain it can only be reached by harnessing the four key elements mentioned above. I discussed these elements during my keynote and asked key partners to share the stage with me, illustrating how these elements have a critical, symbiotic relationship that will be required for us to one day reach the singularity.
Unlimited compute power —

With the staggering amount of data produced today, cloud infrastructure has become critical for not only storing content, but perhaps more importantly, for generating new insight from the content itself. Government agencies, in particular, need more compute power (including CPU, GPU, memory and storage) than is typically available in local systems, enabling them to quickly surface meaningful insights from data. Partnering with a cloud company like Microsoft (which holds data across the world in 55 different regions) makes data not only more readily accessible, but provides the critical horsepower for cognitive engines to interrogate this data and assist in surfacing new insights.

Massive amounts of data —

When it comes to actionable insights, we must feed cognitive engines a vast amount of data so they can learn and produce better insights for our customers. But the process of accessing sufficient data is complicated for government agencies. Given the sensitive nature of data stored, much of it often resides in a dedicated government cloud or in local air-gapped data centers. As a data steward for the government, Oracle makes data readily accessible in both cloud and local systems.

Understanding of human experience

— Digital transformation doesn't happen in a vacuum — builders of AI tools must have a deep understanding of the government employees who will become the recipients and users of these tools as well as team needs and missions. Professional services organizations bridge gaps between vendors and end customers interested in specific solutions by listening to customer pain points and then subcontracting builders to architect new tools that meet mission requirements. They also develop an understanding of preexisting systems and how new systems must be integrated. Additionally, consultants play an important role in onboarding employees to new AI systems and creating readily accessible training materials so government employees can interpret insights to make faster, more informed decisions. For example, organizations like Deloitte are pivotal in facilitating collaboration between government agencies such as the Department of Defense and cloud and AI providers.

Underlying operating system

 — To move data seamlessly between cloud and edge systems, harness insights locally and enable custom solution building, we need a flexible operating system that underpins everything. This is where Veritone's FedRAMP-certified AI operating system, aiWARE, comes into play. aiWARE gives agencies the flexibility to enrich data into actionable information wherever it resides, allows AI-native apps or existing legacy applications to leverage newfound AI-enriched information, and enables various agencies to share enriched data that would have previously lived in a silo.
Singularity might seem like something from a science fiction novel. But working collaboratively to unlock siloed knowledge and data allows us to live in a world in which our technology can make better decisions than we can. At Veritone, we're working to rapidly accelerate this process by building a framework on which our current and future partners can build solutions to make our machines smarter, faster.  
Watch the full keynote here: CES-G Keynote