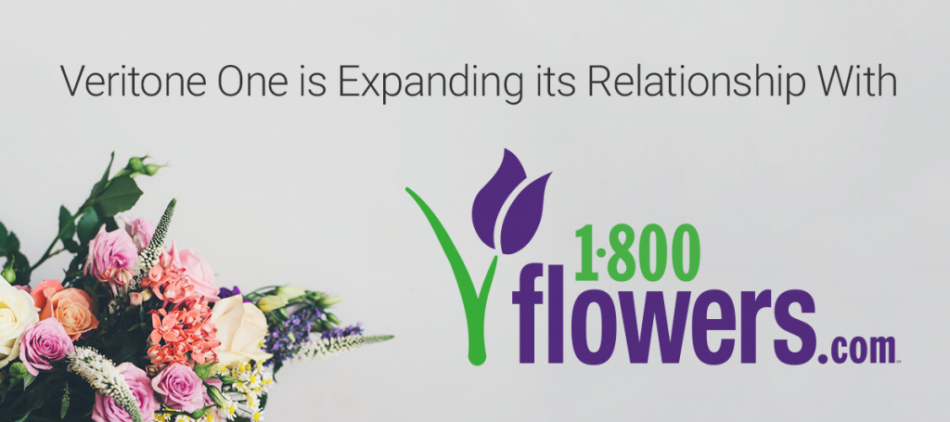 06.27.17
1-800-FLOWERS.COM Extends Collaboration with Veritone One to Lead Growth in Traditional Media
Ecommerce and technology innovator utilizes ad agency and its artificial intelligence platform for offline advertising spend optimization
Veritone One®, a full-service advertising agency that creates native and traditional advertising for renowned brands, and a subsidiary of Veritone, Inc., announced today that 1-800-FLOWERS.COM®, the leading gourmet food and floral gift provider for all occasions, has extended its relationship into 2018 with Veritone One as its exclusive agency for radio and podcast advertising to ensure speed, transparency and accuracy of broadcast advertising spends.
Veritone One leverages proprietary artificial intelligence (AI) technology, the Veritone Platform, including the Veritone Custom Analytics Platform (VCAP), to track and provide detailed performance analytics on advertising spots in more than 700 content streams, including broadcast radio, television, podcasts and YouTube channels, in near real time. Veritone One uses the platform to provide 1-800-FLOWERS.COM with actionable intelligence regarding the performance of their radio advertising spots, helping them to produce more efficient, scalable and successful campaigns.
"At 1-800-FLOWERS.COM, we have a culture that embraces technology innovations, so a forward-thinking agency with unique technology, like Veritone One, makes an ideal partner for us," said Chris McCann, president and chief executive officer of 1-800-FLOWERS.COM, Inc. "Veritone One gives us real-time insights and an unprecedented look at opportunities to stand out ahead of the competition. The near immediate knowledge surrounding our spend allows us to make business-critical decisions quickly, like scaling up personnel in call centers based on expected call volume from offline, including radio spots."
The Veritone Platform ingests thousands of hours of audio and video content daily, leveraging its powerful suite of integrated cognitive engines, including natural language processing, voice fingerprinting, logo detection, facial recognition and object detection, creating a rich and actionable database and index of public and private media.
1-800-FLOWERS.COM spends a significant amount on on-air radio personality endorsements, which can be nearly impossible to track and analyze manually. Before teaming with Veritone One, the Company's marketing team had a delayed process to receive and manually review clips to verify when spots had aired. The Veritone Platform allows clients like 1-800-FLOWERS.COM to hear audio spots and mentions minutes after airing to immediately evaluate and confirm target messaging.
"1-800-FLOWERS.COM is an undisputed e-commerce leader that understands the value of innovation, specifically in AI," said Ryan Steelberg, president of Veritone One. "We're thrilled to have a like-minded, household name such as 1-800-FLOWERS.COM on our roster of clients."
Additionally, the platform provides an opportunity to use the data to optimize marketing channels outside of radio. In the future, 1-800-FLOWERS.COM will have the ability to segment potential customers for follow-up communication reinforcing messaging from placed advertising.
For more information about Veritone One, visit VeritoneOne.com. To learn more about the breakthrough technology turning artificial intelligence into actionable intelligence, visit Veritone.com.
About Veritone One
Veritone One is a full-service advertising agency providing media planning, media buying and creative development across broadcast, digital and social media. Headquartered in Costa Mesa, Calif., Veritone One is a subsidiary of Veritone, Inc.
About Veritone
Veritone, Inc. is a leading artificial intelligence company that has developed the Veritone Platform, which unlocks the power of AI-based cognitive computing to transform and analyze unstructured public and private audio and video data for clients in the media, politics, legal and law enforcement industries. The open platform integrates an ecosystem of best-of-breed cognitive engines and powerful applications, which are orchestrated together to reveal valuable, multivariate insights from users' data. To learn more about Veritone, please visit Veritone.com
About 1-800-FLOWERS.COM, Inc.
1-800-FLOWERS.COM, Inc. is a leading provider of gourmet food and floral gifts for all occasions. For the past 40 years, 1-800-FLOWERS® (1-800-356-9377 or www.1800flowers.com) has been helping deliver smiles for our customers with gifts for every occasion, including fresh flowers and the finest selection of plants, gift baskets, gourmet foods, confections, candles, balloons and plush stuffed animals. As always, our 100% Smile Guarantee® backs every gift. The company's Celebrations® suite of services including Celebrations Passport® Free Shipping/No Service Charge Program, Celebrations Rewards® and Celebrations Reminders®, are all designed to engage with customers and deepen relationships as a one-stop destination for all celebratory and gifting occasions. In 2017, 1-800-Flowers.com was awarded Gold Stevie "e-Commerce Customer Service" Award, recognizing the company's innovative use of online technologies and social media to service the needs of customers. In addition, 1-800-FLOWERS.COM, Inc. was recognized as one of Internet Retailer's 2015 Top 300 B2B e-commerce companies and was also recently named in Internet Retailer's 2016 Top Mobile 500 as one of the world's leading mobile commerce sites. The company was included in Internet Retailer's 2015 Top 500 for fast growing e-commerce companies. In 2015, 1-800-Flowers.com was named a winner of the "Best Companies to Work for in New York State" Award by The New York Society for Human Resource Management (NYS-SHRM). The Company's BloomNet® international floral wire service (www.mybloomnet.net) provides a broad range of quality products and value-added services designed to help professional florists grow their businesses profitably. The 1-800-FLOWERS.COM, Inc. "Gift Shop" also includes gourmet gifts such as premium, gift-quality fruits and other gourmet items from Harry & David® (1-877-322-1200) or www.harryanddavid.com), popcorn and specialty treats from The Popcorn Factory® (1-800-541-2676 or www.thepopcornfactory.com); cookies and baked gifts from Cheryl's® (1-800-443-8124 or www.cheryls.com);; gift baskets and towers from 1-800-Baskets.com® (www.1800baskets.com); premium English muffins and other breakfast treats from Wolferman's® (1-800-999-1910 or www.wolfermans.com); carved fresh fruit arrangements from FruitBouquets.com (www.fruitbouquets.com); and top quality steaks and chops from Stock Yards® (www.stockyards.com). Shares in 1-800-FLOWERS.COM, Inc. are traded on the NASDAQ Global Select Market, ticker symbol: FLWS.
SAFE HARBOR STATEMENT
This news release contains forward-looking statements, including without limitation statements regarding the use of the Veritone Platform and the expected benefits for 1-800-FLOWERS.COM, Inc. Without limiting the generality of the foregoing, words such as "may," "will," "expect," "believe," "anticipate," "intend," "could," "estimate" or "continue" or the negative or other variations thereof or comparable terminology are intended to identify forward-looking statements. In addition, any statements that refer to expectations, projections or other characterizations of future events or circumstances are forward-looking statements. Assumptions relating to the foregoing involve judgments and risks with respect to various matters which are difficult or impossible to predict accurately and many of which are beyond the control of Veritone. Although Veritone believes that the assumptions underlying the forward-looking statements are reasonable, any of the assumptions could prove inaccurate and, therefore, there can be no assurance that the results contemplated in forward-looking statements will be realized. In light of the significant uncertainties inherent in the forward-looking information included herein, the inclusion of such information should not be regarded as a representation by Veritone or any other person that their objectives or plans will be achieved. Veritone undertakes no obligation to revise the forward-looking statements contained herein to reflect events or circumstances after the date hereof or to reflect the occurrence of unanticipated events.
Contact
Kimberly Jefferson
BLASTmedia for Veritone, Inc.
317-806-1900 ext.104
kim@blastmedia.com