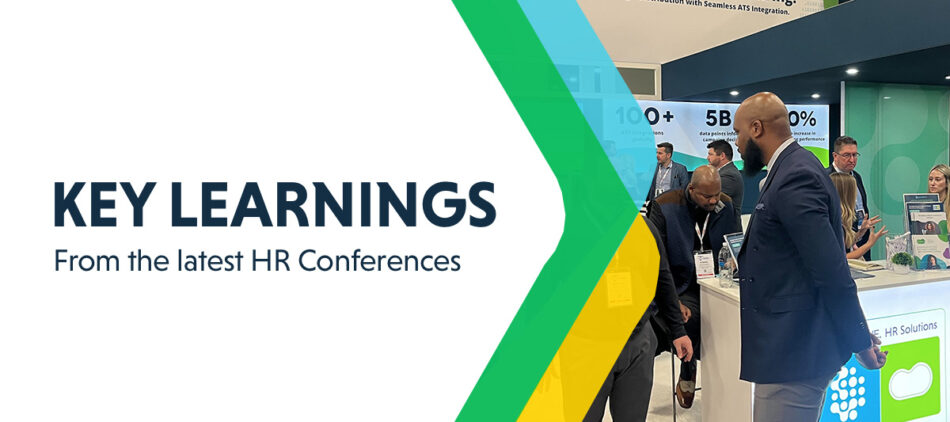 10.26.23
Key Learnings from the Latest HR Conferences
Over the last couple of weeks, I had the opportunity to attend my second HR Technology and Conference Exhibition (HR Tech) and my second UNLEASH World. These conferences brought together HR enthusiasts, industry experts, and organizations from across the world to discuss the latest innovations and future trends in human resources. I am grateful for the opportunity to have connected with some of the industry's greatest minds—the energy and insights we've shared were truly inspiring.
Aside from connecting with colleagues and peers, I enjoy attending HR Tech and UNLEASH World because it provides a window into what we can expect in the year ahead. Following this year's conferences, there were three notable themes to watch for in 2024:
1. Market consolidation to simplify a crowded competitive landscape 
We continue to see consolidation across HR tech vendors to form powerhouse organizations that better serve the industry. For example, this year, we had the unique opportunity to showcase the integration of Broadbean and PandoLogic solutions under a combined Veritone brand at our booth. Through our booth activations like predictive performance reports and AI Insights workshops, we demonstrated to conference participants how the consolidation of global job distribution, ATS integrations, and AI-enabled programmatic advertising can service 100% of a company's job advertising needs. Right next to our booth was Employ, another great illustration of consolidation in the industry, promoting their talent acquisition solutions across their JazzHR, Lever, Jobvite, and NXTThing brands. 
As demonstrated at the Startup Pavilions and during the Pitchfest presentations at HR Tech and Startup Competition at UNLEASH, we are seeing more startups show up in a crowded industry. Few are really interesting like Kombo, Talk'n'Job, which was the startup winner at UNLEASH, and Recrubo.ai, but most have convoluted value propositions or rehash existing solutions. Consolidation will be essential to mitigate the risk of a confusing competitive landscape that may paralyze buyers from making business-critical decisions.
2. Increased integration of HR technology, including AI
If HR Tech or UNLEASH had a buzzword, it was AI. AI has been present in our industry for years, but we're just beginning to understand how to adopt this technology across use cases and functions and realize its impact. As Josh Bersin described in his opening keynote at HR Tech, we are in a "post-industrial" economy where the success of companies will rely on their ability to harness AI to make their employees more effective.
As HR professionals are forced to keep up with our rapidly evolving landscape and solve the challenges around sourcing, retaining, and upskilling employees, the need to understand and effectively leverage AI is critical.
As my colleague, Sumit Gupta, shared in his HR Tech Talk, while there are nagging fears associated with AI, like its potential to replace humans or open-source misuse, these risks can be mitigated by adopting best practices. A few guardrails Sumit highlighted included auditing tech partners, ensuring ethical AI practices, and understanding the root causes of recruitment challenges. 
Ultimately, understanding both the benefits and risks of AI is essential for successful integration into talent acquisition efforts. 
3. Simplified systems to provide a more holistic customer experience
The vendor management system (VMS), customer relationship management (CRM), and applicant tracking system (ATS) spaces are overly crowded and complicated. While some organizations continue to move in the direction of enhanced ATS, others are planning to adopt hybrid models as their system of record.
There are pros and cons to having an "all-in-one" solution, but integrating job distribution with ATS and CRM dramatically simplifies the end-user experience. The ability to combine recruiter workflows with learning and skills development allows customers to invest in their talent pipeline and existing employees.
Overall, HR Tech 2023 and Unleash World were incredible events. I left with a renewed sense of enthusiasm (the amazing send-off at Unleash contributed to that, watch the last 15'' of the highlights) for the limitless possibilities that HR technology offers and a deeper understanding of its impact on the HR industry. If we didn't have the opportunity to connect at this year's events, please feel free to reach out to me directly at afourlis@veritone.com.