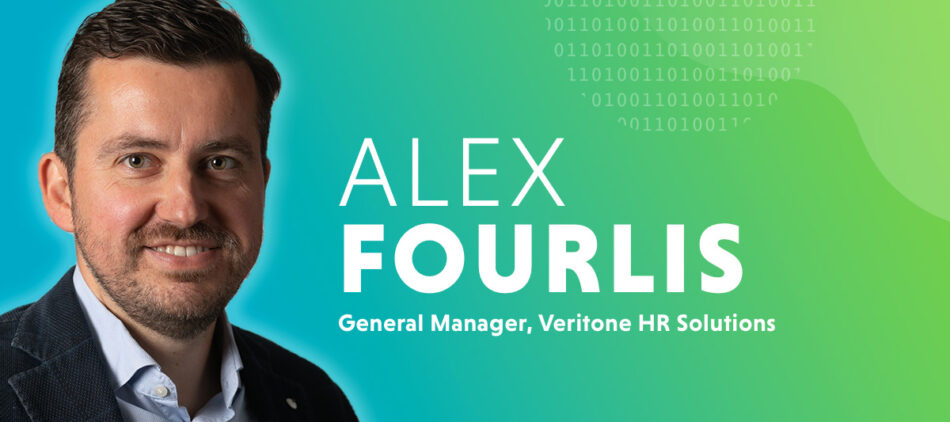 09.21.23
Insights from the Experts: A Q&A with Alex Fourlis, the New GM of Veritone HR Solutions
Summary: 
Veritone acquired Broadbean Technology this year, combining their capabilities with PandoLogic, another Veritone acquisition to form Veritone HR Solutions. 

Alex Fourlis, former President and Managing Director of Broadbean, was appointed General Manager of Veritone HR Solutions to continue revolutionizing the HR space through the power of technology. 

Alex Fourlis shares some of his insights on the changing HR landscape and what professionals in the industry are most challenged by—read on to learn more!
---
Earlier this year, Veritone acquired Broadbean Technology, a global recruitment technology company best known for transforming the HR and talent acquisition functions. Broadbean Technology has achieved this through its job distribution software, ATS integrations and overall global reach. Joining PandoLogic, which was acquired by Veritone in 2021, they both are now forming Veritone HR Solutions with the mission to make hiring the right people effortless.
Recently, we appointed Alex Fourlis, former President and Managing Director of Broadbean Technology, to General Manager of Veritone HR Solutions. Alex has over 20 years of experience managing recruitment technology and was recently recognized as a top 100 most influential talent acquisition thought leader by TATech. 
We caught up with Alex to get his perspective on the HR industry and how Veritone HR Solutions will combine the strengths of Broadbean and PandoLogic to advance the capabilities of AI and empower people to do even better than their best.
Q: Congratulations on your recent appointment to General Manager of Veritone HR Solutions! What are you most looking forward to in your new role?
I first met the PandoLogic and Veritone teams at the 2022 HR Technology Conference and Exposition. Broadbean was actively considering programmatic partnerships, so when I came across PandoLogic's booth, I requested a demo of their Programmatic Prediction Report tool. During the demo, the team showed me how their technology leverages millions of data points collected from programmatic campaigns to instantly provide a detailed prediction of how much money you can save and the exact results you can expect from a hiring campaign. The ability to deliver a report of this accuracy by simply uploading your open roles and hiring targets was a "WOW" moment for me and I've been working in the recruiting industry for over 25 years.
I share that story because I see a tremendous opportunity to continue advancing our current product suite. By combining the AI enterprise workflows developed by Veritone with PandoLogic's AI-powered acquisition technology and Broadbean's worldwide job distribution, I believe we are positioned to solve any hiring challenge.
Q: In today's rapidly changing HR landscape, what trends are top of mind for you as you grow the HR Solutions business at Veritone? 
In the short term, one of the trends I am concerned about is employers reducing the size of their recruitment teams, investments in recruitment technology and advertising budgets to protect their organization  from a negative market outlook. We have seen these reductions before and it can lead to long-term challenges, especially when the economic cycle changes and companies need to shift back to hiring mode. 
We are hyper-focused on solving problems for our customers, and we're committed to helping them save time and money without sacrificing the performance of their advertising campaigns or losing critical recruitment skills and capacity. The long-term demographic and labor shortages are here to stay, so I would advise employers to keep their short-term efficiency objectives and long-term technology investments in balance. 
Q: What are the key challenges or obstacles faced by HR professionals, and how can they navigate or overcome them?
We are committed to solving problems for HR and talent acquisition professionals. Currently, the industry is faced with:
An unpredictable and highly saturated market, increasing competition for talent; 

An ever-changing landscape that requires new and reimagined technology to help talent acquisition professionals remain effective and efficient in their decision-making processes;

A pay-per-post basis across 80% of the market; and, of course,

A fragmented recruitment workflow and siloed data sets.
AI-powered solutions, when integrated responsibly and seamlessly into talent acquisition practices, can go a long way toward solving these challenges by optimizing recruitment strategies, reducing costs, improving efficiency and driving maximum impact.
Q: I know you're attending the HR Technology Conference and Exposition in Las Vegas in a couple of weeks. What are you most looking forward to during your time there?
HR Tech is one of the predominant events for our industry. I already mentioned the impact PandoLogic's demo had on me, which is what makes me feel confident that PandoLogic and Vertione are great long term partners for Broadbean. I'm looking forward to spending the week with some of the industry's greatest minds, making valuable connections and gaining insightful feedback on our business while experiencing more "WOW" moments.
Interested in meeting Alex and the rest of our HR Solutions team at HR Tech? Visit us from October 10 – 13 at booth 5802 located in the Mandalay Bay in Las Vegas to chat with our experts about how we're redefining recruiting and talent acquisition.