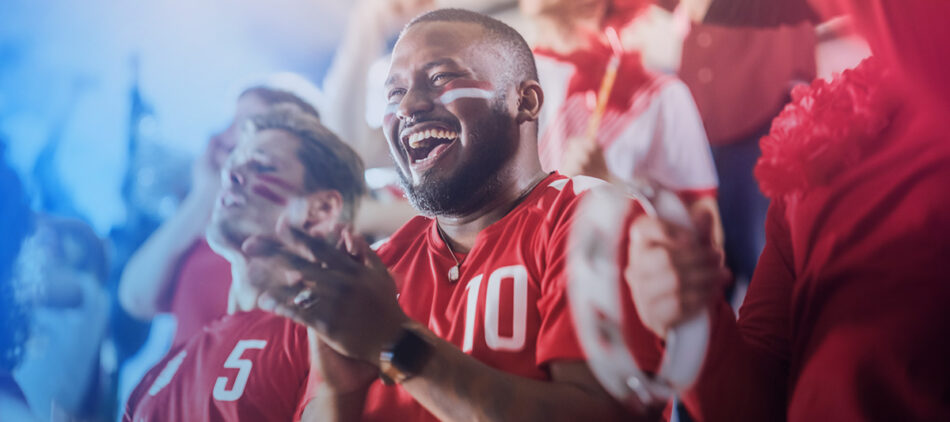 09.28.23
How AI-powered Content Helps Sports Organizations Turn Casual Fans into Devoted Supporters to Increase Revenue 
Summary:
Sports organizations can maximize revenue generated per fan by increasing their avidity levels through engaging content.

To efficiently create engaging content, organizations need to digitize and consolidate their media into a singular AI-powered archive to make it more easily accessible. 

Sports organizations can easily produce proprietary content for social media feeds, create sponsorship activations across multiple platforms, and license content to advertisers and other third parties.
Every sports team, league, and federation wants to maximize the revenue generated per fan. To do that, these organizations must transform fans from casual spectators to die-hard supporters. A survey in the United States shows that while 26% of sports fans are passionate, a considerable 44% consider themselves casual followers. The remaining 30% do not affiliate themselves with sports. Sports organizations need to have strategies for engaging all these groups, with the ultimate goal of transitioning them from casual to fanatic. 
The group that is relatively easy to engage is the casual fans, who are already interested in the sport. Shifting this 44% from casual fans to enthusiastic ones significantly impacts a sports organization's revenue, as fanatics typically spend 123% more. But the challenge lies in the creation of more fanatics.
The key to this is fan engagement through content, which needs to be a year-round initiative and not restricted to the season. 60% of fans admit that an all-year experience makes them more likely to interact with a sports organization, and 55% state it increases their likelihood of buying a ticket in the future. The challenge, however, is the continuous creation of fresh content. This necessitates complete visibility into the content collections that sports organizations have at their disposal. 
Unleashing a Content Archive
Many sports organizations are sitting on a treasure trove of content. However, many have not committed to fully digitizing their archives, which is the first step in effectively sourcing and creating new, engaging content. Whether it's a player on the eve of breaking a longstanding record, producing historical vignettes for various social media platforms, or responding to specific media requests, sports organizations need a rapid way to locate and highlight these moments, irrespective of when a content opportunity arises.
Thankfully, manual, error-ridden, and time-consuming processes have now been automated with the help of artificial intelligence (AI). Sports organizations can gain insights into their content through transcribed audio, logos, facial recognition, and other AI cognitive engines. The San Francisco Giants described this speed and visibility into an archive with AI content management as having their own personalized YouTube, sourcing video content in their archive with only a few keystrokes. 
But first, you need to determine where your content resides. If it's in legacy formats, you should consider digitizing this content and then consolidating everything into a digital asset management platform like Veritone Digital Media Hub with AI capabilities. As you ingest content into the platform, you can automate metadata creation to make content more discoverable for various use cases. Once AI starts processing your existing and future content, you can engage fans more effectively and open your archive to potential revenue-generating opportunities. 
However, this is only part of the equation. Sports organizations should also consider a multichannel approach to content, tailoring it differently for various platforms. For instance, millennials are 40% more likely than baby boomers to follow their favorite players and sports organizations on social media. Furthermore, 50% of Americans use a second screen to enhance their primary screen experience, presenting new opportunities for content monetization.
Revealing the Hidden Value of Content
AI simplifies content management, unlocking more monetization opportunities due to increased visibility and quicker content delivery. It also assists sports organizations in creating new content, such as the ability to license specific media assets for either short-form or long-form publication. 
Additionally, once content is digitized and tagged in an AI-powered platform, you can introduce AI voice and generative AI. By creating voice clones of players or other sports representatives, these organizations can tailor the fan experience even further than previously thought possible. 
For example, fans could ask their favorite team questions about stats and receive responses in a specific player's voice. They could even listen to a play-by-play feed in the same voice. LaLiga has used an AI voice assistant to answer fan queries, while the Pittsburgh Steelers have used AI to answer questions in a player's voice, enhancing fan engagement. 
And more recently, LaLiga, Globant, and Microsoft partnered to develop GenAI solutions, including real-time multi-language subtitles for matches, automatic content translations, and real-time metrics for the coaching staff to assess team performance. Veritone has been innovating in this space, providing automated highlight generation from event metadata and content localization with AI voice in partnership with Stats Perform. 
Setting the Stage for an AI Content Strategy
AI will inevitably influence every aspect of the content lifecycle, from creation to distribution, revolutionizing how teams create content and ultimately connect with fans in a genuine manner. Current technology is just scratching the surface. Sports organizations that approach AI as both a creative tool and a content management automation technology will have a more effective means to drive fan avidity. In doing so, they can unlock greater revenue per fan and open up new revenue channels with their content. 
Learn More About Veritone's Sports Solutions
---
Further Reading: 
San Francisco Giants Save the Equivalent of 15 Interns Doing 1 Year of Work 
Veritone Renews AI and Monetization Partnership with U.S. Soccer 
Veritone Activates 24 Hours of Action-packed Live Racing Content at 50th ADAC TotalEnergies Nürburgring  
Veritone Digital Media Hub Supports the US Open 
Sources: 
https://www.statista.com/statistics/300148/interest-nfl-football-age-canada/
https://telescope.tv/blog/fan-driven/how-to-turn-fans-into-fanatics/
https://www2.deloitte.com/content/dam/Deloitte/us/Documents/technology-media-telecommunications/us-tmt-engaging-sports-fans-year-round.pdf
https://www.businesswire.com/news/home/20160128006062/en/Millennials-Master-the-Second-Screen-More-than-Three-quarters-use-Sec
https://www.laliga.com/en-GB/news/artificial-intelligence-and-var-take-centre-stage-during-laliga-innovation-showcase-at-the-mobile-world-congress
https://www.broadcastnow.co.uk/tech-innovation/laliga-tech-globant-and-microsoft-partner-on-genai-in-sport-broadcasting/5184981.article