WHO BENEFITS FROM VERITONE VERIFY
Technology Providers

Secure new and existing applications with a frictionless, biometric authentication layer, with no AI expertise required.


Help Desk Leaders

Reduce help desk tickets with forget me not authentication to business applications.

Your Workforce

Boost productivity of your workforce through biometric authentication- no more passwords to remember and periodically update.

Your Customers

Create fast, frictionless customer sign-on experiences into your application.
Secure, easy-to-use biometric authentication you can integrate, deploy, and scale fast
Gone are the days of lost passwords, password resets and password refreshes that slow users down and add unnecessary management overhead and cost. Veritone Verify is an identity service built on aiWARE, the operating system for AI, that empowers IT teams and technology providers to secure new and existing applications with a frictionless, biometric authentication layer — no AI expertise required. With authentication factors users can't forget or lose, reduce costs and frustration, and boost productivity for you and your users.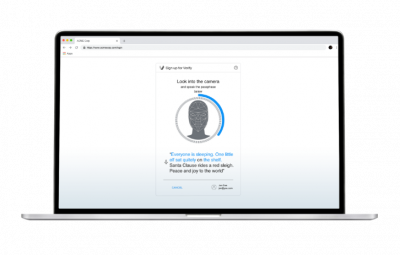 Strong biometric authentication made easy
Veritone Verify, built on the aiWARE operating system for AI, makes it easy to integrate and deploy strong biometric authentication – as easy as 1, 2, 3:
| | | |
| --- | --- | --- |
| | | |
| Integrate: Integrate Veritone Verify with your application. Verify's next-generation identity layer integrates into the authorization standards you use in your apps, including OAuth 2.0 and SAML 2.0. | Enroll: Your users perform one-time enrollment. After Verify is up and running, leverage the built-in enrollment workflow to invite users to enroll via a unique URL, and capture users' face and voice biometric data to populate as encrypted hashes in the cloud, for future identity verification comparison at login. | Authenticate: Your users authenticate in-app. Once users have been enrolled, they select "Login with Verify" on your app's login page, snap a headshot with their built-in camera, read a phrase on their screen into the built-in microphone, and authenticate to initiate an automated workflow prescribed by you. |
Capabilities
Biometric Authentication

Leverage accurate, convenient biometric identity verification methods including face recognition and speaker identification, lowering breach risk with strong, forget me not security.

Administration Made Easy

Manage users in a centralized admin console to quickly enroll, delete, and view statuses for users quickly. Users can reset biometric fingerprints with a self-service workflow at login.

Simple Integration

Easily integrate Veritone Verify out-of-the-box user enrollment and authentication workflows directly into your app via a simple config file.

Seamless User Experience

Improve user satisfaction with one-time, frictionless user enrollment and in-app 'something you are' authentication via the built-in camera and microphone on your user's device.

ENTERPRISE GRADE SECURITY

Secure your infrastructure and protect users. User biometric fingerprints are stored as encrypted hashes and encrypted in transit during enrollment and verification, with all source data discarded in under a second.

Managed Services

Don't have the time or man power to go it alone? Leverage Veritone to host and integrate Verify within your infrastructure, and securely store user data.