Transparency & Trust
Shining Light on Police and Community Relationships
and How Technology Can Help
An important national conversation is happening around the topic of policing in America.

But it can often be hard to cut through the noise and assess the public's true feelings regarding law enforcement agencies.
This report dives into the relationship between law enforcement agencies and the communities they serve, using data collected from thousands of Americans across the country in April 2021, as well as insights from current and former law enforcement leaders.
The results reveal 4 clear themes…
1
Perceptions of policing are
nuanced and complex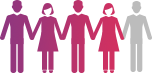 4 out of 5 Americans feel safe in their communities and most credit the police
Most people have positive opinions about the police, yet mixed feelings remain
2
Improving transparency
is good for all

42% say lack of transparency
has hurt their perception
of law enforcement
Misunderstandings exist about current transparency efforts.
3
Communities have strong opinions about the role of police
84% say police should
focus on responding
to violent crime matters.
1 in 5 support
"defunding the police"
4
Technology will accelerate
transparency efforts
Widespread support
exists for body-worn cameras

61% say they trust police
to use technology to aid
in suspect identification.
The public also widely embraces technology use to improve transparency in policing…
Learn more about the complex interplay of law enforcement policy, public perception and technology in American society.