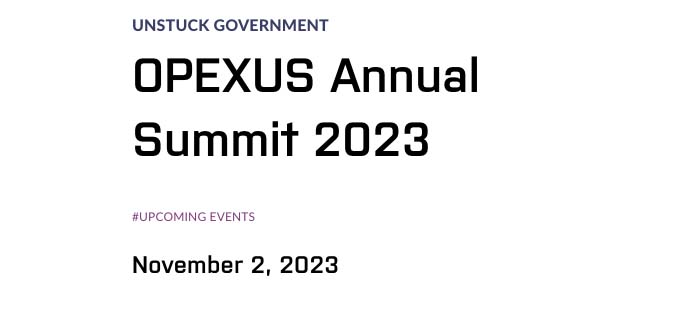 10.5.23
OPEXUS Annual Summit 2023
Unstuck: Being a Changemaker in a Changing Government
Each year, we bring together our community to learn how government leaders have transformed their operations. Join us to share your own insights, discover firsthand how visionary leaders have revolutionized their agencies, and shape the next generation of changemakers.
Come to the 18th Annual OPEXUS Summit, joining fellow changemakers who are making the impossible, possible. In a world of ever-expanding data and increasing demands from constituents, employees, and policymakers, the responsibility to drive innovation and shape the great technology experiences government employees deserve lies with behind-the-scenes changemakers like you.
This daylong, multi-track educational program specifically covers:
– What your FOIA program is missing beyond the request, and how modern request management tools can take it to the next level
– Uncovering the hidden minefields in your audit and investigations workflows to revolutionize reporting and never miss another deadline
– Standing up a workforce management portal so your employees can track cases seamlessly, confidentially, and transparently
– Free to government employees. Earn CPE credits.
Be sure to visit Veritone in booth # 4 to learn about our AI-based government solutions!