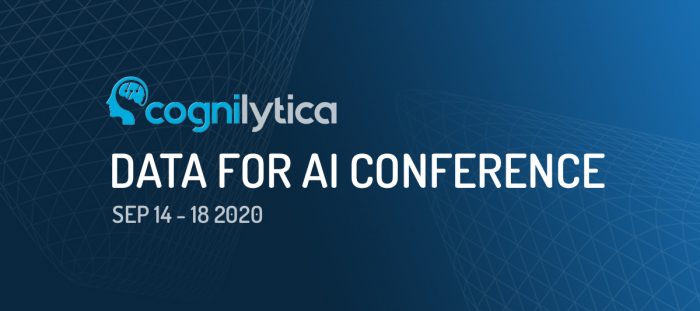 07.29.20
The Data For AI Conference Week, took place on the week of September 14-18, 2020.  Over the course of the week the event combined a large library of on-demand content with live keynotes and live webinar-style panel engagements, attendee/expert matching, "ask-me-anything" style expert sessions, and educational content. 
Key topics include Data Engineering, Data Preparation, Data Labeling & Annotation, Sourcing Data and Data Generation for AI.
As a proud sponsor of the event, Veritone hosted 8 informative, content-rich sessions and an "Ask The Expert" session which are now available to view.  Topics and a brief description of each below will point you to the sessions that are right for you.  Click on the sessions to watch!
The Ethical Side of Data Usage
Machine learning requires data, and many companies have lots of data that is useful for many very important tasks. However there are many questions about how this data should be used, shared and applied. Additionally, companies walk a fine line with just how much they want to let customers and users know about the data they have on them. This panel will explore the ethical side of data usage from an industry perspective.
Building Trust in Your AI
AI can deliver compelling business results, but do you know for a fact you are using the best available AI model for your data? Do you know what to expect after deploying? Is there risk of performance degradation or bias? Many AI projects fall short of expectations due to poor model performance or the unintended consequences of inaccurate AI decisions. What if there was a universal way for ML Ops / AI Ops to evaluate and monitor the performance and behavior of AI models, both pre-deployment and ongoing, no matter the vendor or features used?
In this session we will review the pitfalls of opaque AI models, and discover how to evaluate, compare, and monitor performance and behavior across AI models, for better AI model trust and explainability. We will also demonstrate the Veritone Clarity product, showing how you can easily select the best AI model for the job, detect drift and correct it to achieve better business outcomes.
MLOps Done Right: Best Practices to Deploy. Integrate, Scale, Monitor, and Comply
Successful MLOps not only requires strong collaboration between the AI data team, AI model team, and DevOps – it's the ability to effectively manage and mitigate risk across the deployment, integration, scale, monitoring, and compliance stages of an AI project. In this session, we will review these topics in detail, including why a cross-vendor deployment approach minimizes risk; what a standardized approach looks like when integrating AI into business processes and systems; scaling with business growth; monitoring performance and cost variables when models inevitably change, and how best to respond; and tracking model actions to ensure compliance. 
You will also learn how Veritone's own MLOps tackles these issues in successfully managing cloud-based AI deployments for large media and sports conglomerates including Bloomberg, ESPN, iHeartMedia, and the San Francisco Giants. Guest Speaker Dave Cook, Sr. Director for AI/ML Professional Services and Lead AI/ML Scientist for Figure Eight Federal, will discuss a framework and best practices for foundational data infrastructure that can fuel MLOps and evolve AI initiatives into Enterprise organizational capabilities. 
The session wraps up with a demonstration of Veritone's Automate Studio low-code workflow tool, which eases the task of deploying AI models into production. If you're responsible for MLOps, you don't want to miss this session.
How to Cognitively Enrich Data in Legacy Systems
Valuable unstructured content is everywhere in organizations. Video, audio, and text content abounds, just waiting to be discovered and utilized–whether within BPA and RPA processes or stored in content management and line of business systems. The challenge is, how to enrich and extract that content for better findability and insight, and how to do it quickly, easily and at low cost? Join us in this session as we explore how to leverage an expansive ecosystem of hundreds of ready-to-deploy AI models to extract business value from content, and how to do so at scale, in near real time, without the need for AI expertise.
Guest speakers include Damon Brady, Senior Director, Product Development and Programs, BAE Systems – Advanced Geospatial Solutions of BAE Systems, and Dave Cook, Sr. Director for AI/ML Professional Services and the Lead AI/ML Scientist of Figure Eight Federal, who will share their experiences using AI to transform their content-rich processes for improved productivity, efficiency and insight. This is a must-see session for anyone looking to utilize their content in a more automated way.
How AI is Helping Public Safety Agencies Demonstrate Greater Transparency
Amidst challenging times for law enforcement, police departments and other public safety agencies have an opportunity to foster greater public trust and increased transparency through the application of AI. In this session, Retired Chief David Jantas from the Pemberton Township, NJ Police Department will share his experiences and best practices on how agencies are leveraging AI driven technology to not only help save costs and resources, but provide greater transparency to the public such as the release of redacted public records requests.
Using Predictive AI to Optimize the Grid
A perfect storm is brewing in the energy industry. Amidst aging infrastructure and reliance on fossil fuels, grid operators now struggle to integrate newer microgrids and renewable energy sources such as solar and wind into their legacy grids. Supply/demand mismatches cause energy brownouts or blackouts; voltage/frequency synchronization problems burn out expensive equipment; and security vulnerabilities could bring down the grid for millions. Where to turn to manage all this chaos? AI.
In this session you will learn how Veritone optimizes the grid with predictive AI to make clean energy production more predictable, reliable and cost effective. You will understand the key components to Veritone's patented, intelligent energy automation solution: demand forecaster, energy optimizer, device controller, grid simulator, and energy arbitrage. The session will conclude with a customer case study of one utility's intelligent energy simulations showing drastic improvements in grid resiliency, optimization and security.

How AI Transforms Contact Centers in the Age of COVID
Organization contact centers face new challenges during the pandemic as they grapple with spikes in demand, a remote workforce, and compliance concerns. These challenges create opportunities for AI automation solutions that deploy digital workers to come alongside human workers and make their jobs easier. In this session you will learn how AI applied to calls, emails and social streams can automate and accelerate contact center processes. Discover what's possible including call transcription and translation; auto-identification of topics/keywords with automated responses and support ticket creation; automatic responses or issue escalation based on sentiment; customer recognition based on voice or face; and more. Attend this session and get practical advice on how best to start your contact center automation journey.
Predictive Analytics And Data
One of the seven patterns of AI, predictive analytics is being used in many areas of government to help humans make better decisions. Some examples of this pattern being applied include assisted search and retrieval, predicting some future value for data, predicting behavior, predicting failure, giving advice, and intelligent navigation. The idea is that it helps to make better decisions, providing augmented intelligence capabilities. Machine learning is what is helping to make the decision, adapting over time to provide better results.In this panel we'll explore how various agencies are successfully applying the predictive analytics pattern of AI.