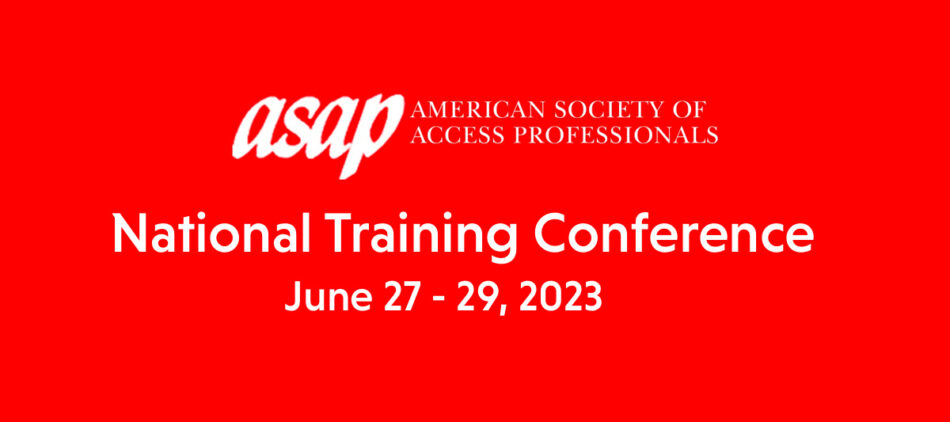 03.29.23
ASAP 2023 National Training Conference
ASAP (American Society of Access Professionals) educational programs are highly respected as they bring practical and relevant information for all access professionals through instructor–led sessions, information exchange, problem-solving, and networking. ASAP programs are open to the public. This training program is designed to address the educational and developmental needs of all individuals dealing with access statutes, privacy issues and records management. The National Training Conference (NTC) blends basic, mid-level, and advanced sessions over three days. Instructor-led classes detail the practical everyday applications of the access statutes and records management. Professional development sessions may be included. A special feature of the NTC is the agency-specific sessions and informal "Ask the Expert" tables throughout the three days. The NTC began in 1991 as the Western Regional Training Conference and was held in various cities in the West through 2007. Demographics no longer supported holding the training only in western locations. In 2008, the name was changed to the National Training Conference, and the training was held in Orlando, Florida. In 2013, ASAP moved the NTC to the Washington, D.C. area, combining it with its annual Training Series. Due to the COVID-19 pandemic NTC was held as a virtual event in 2020 and 2021. We are excited to bring this program back to "beyond the Beltway" which was its original intent.
WHO SHOULD ATTEND? Over the last 10 years, every cabinet-level Department has sent employees to this training. Additionally, numerous independent agencies participate. Various requester organizations send representatives and participate on the panels with experts from federal agencies. From new to seasoned professionals, anyone who deals with the FOIA, Privacy Act or other access statutes should attend, including records managers, search coordinators and paralegals. If you deal with government information on a full-time, part-time or as an adjunct responsibility, this training is for you.
Be sure to visit the Veritone table and learn about our AI-based solutions for FOIA and Records Management.
More Information/Registration