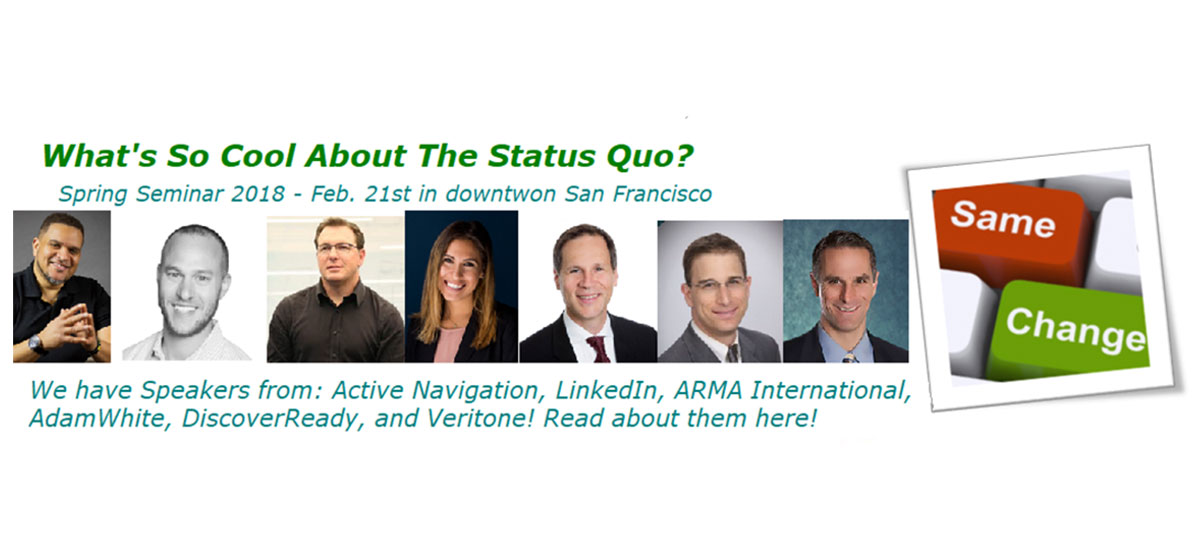 02.5.19
Come listen to Veritone's Karenna Soto and Michael Swarz speak about keeping your discovery techniques up with technology!
4.5 hours of IG Credits available for attendees, CRM Credits pending
Change will happen, so why keep your programs and solutions the same? If you've been in the Records/IG profession for more than a nanosecond, you know that change is happening all the time. This seminar presents a great opportunity to learn how to handle that change like it is the Status Quo. We've assembled a dynamic group of speakers to help you navigate and conquer all those changes as they come at you.
The daylong seminar includes three Individual Sessions and one Moderated Panel discussion with leading people in our field. You'll learn to work with change in the "How To Manage Disruptive Change" session, and become a better leader in the "How to Become a Leader of Influence" session. Our dynamic panel of professionals will discuss the ever-challenging subject of "Keep It and Search It, or Delete Data as Quickly as Possible" and rounding out the seminar we have a session on "Spotlight on eDiscovery: What Every Information Management Professional Needs to Know."
You can find the tentative Agenda and Sessions Descriptions Here.
For more information or to register, go to: https://armagg.org/meetinginfo.php?id=55&ts=1549081562